CEDIA launches Career Center to connect employers, job seekers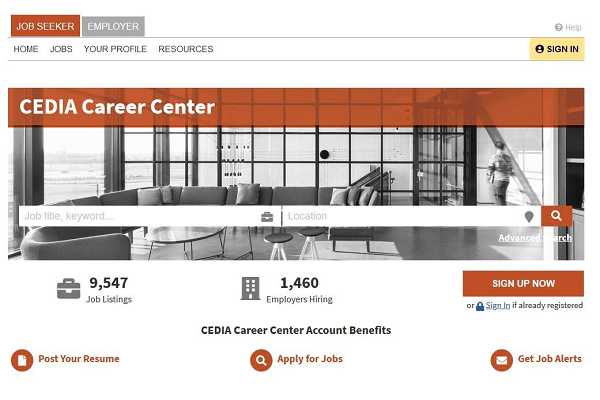 CEDIA has created the CEDIA Career Center, a platform that connects employers with job seekers, showcasing available jobs and talent in the industry.
"The workforce pipeline is a crucial element to the industry's present and future and the launch of the CEDIA Career Center represents a major milestone in CEDIA's tireless efforts to ensure highly-qualified talent is engaged with the industry and connecting with employers," CEDIA director of workforce development Tommy Tabor says.
"The CEDIA Career Center offers practical, easy-to-use resources for anyone looking for work in the industry or anyone hiring. The platform is the latest valuable tool designed by CEDIA to deliver the opportunities, training, and connections to drive the industry to the next level."
Jobseekers, CEDIA members, industry employers and collaborator companies will be able to handle the following tasks on the new CEDIA Career Center:
Create a customisable company profile that includes a company logo, overview, social media links and more.
Post open positions, including internships, apprenticeships and contractor/gig work.
Search candidate profiles and resumes.
View resources on topics, such as, talent attraction, recruitment, development, advancement and termination.
Create a personal profile for jobseekers to showcase their professional information, including CVs and references.
Apply for jobs with CEDIA member and collaborator employers.
Review jobseeker resources on topics, including employability skills, resume development, job search assistance, interviewing skills, skills training and more.
Finding talent is so important to residential integrators. In fact, the results of the recent Voice of the Integrator study commissioned by CEDIA in collaboration with Butler University shows that 54% of employers surveyed in the United States, Canada, the UK, Australia, New Zealand and Mexico identified finding qualified employees as the top issue they're facing.
The CEDIA Career Center platform can be found here.