CEDIA details certification updates and solidifies learning pathways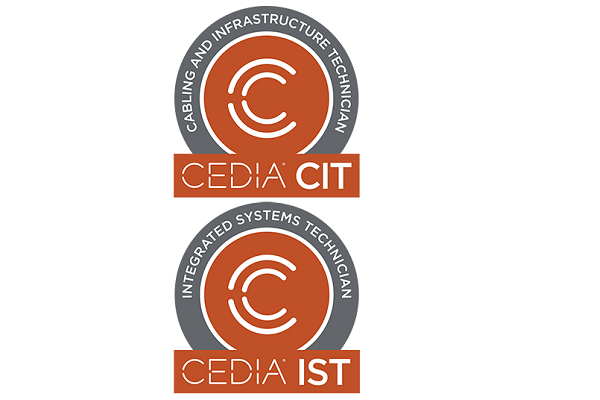 CEDIA has announced major advancements in its globally-recognised CEDIA Certification program including launching the CEDIA Certified Cabling and Infrastructure Technician (CIT) and CEDIA Certified Integrated System Technician (IST) Certifications, comprehensive new learning pathways and advancing the certification process to apply for accreditation based on the ISO/IEC 17024 standard.
"The process has been incredibly stringent to ensure our certifications represent qualified technicians with the skills the industry needs," CEDIA director of certification David Whitney says.
"On top of that, for the first time, CEDIA is seeking accreditation under the internationally recognised ISO/IEC 17024 standard for certification bodies. Following these requirements at every step of the exam development and administration process has been foundational for the program and I'm indebted to the newly created CEDIA Certification Commission for their time and effort in this important work."
While crafting the CIT and IST certifications, the industry experts emphasised the credentials' global nature every step along the way. David says that the group responsible for the training program progressively and precisely measured essential and knowledge at each level.
The entry-level CIT is for technicians who pefrom infrastructure wiring for low-voltage systems in residential or commercial settings while the IST, similar to the current ESC-T, is for experienced technicians who can operate independently on a job site.
"Today marks a whole new chapter for CEDIA Certification and building a whole system that more accurately recognises skilled individuals in our industry," CEDIA Certification Commission Chairman Dennis Erskine says.
"Yes, we're asking more of people who want to be certified, but that is a good thing. By adding rigor and the quality assurance and recognition that comes with official accreditation, our CEDIA Certification holders are going to come away at the end of this process with credentials that earn respect with the project stakeholders and demonstrate the professionalism of residential integrators."
With the exam blueprints now established, work is underway to create the new CEDIA Certification exams. In August, CEDIA plans to launch beta testing for the new CIT exam, while beta testing for the new IST exam is slated for November.