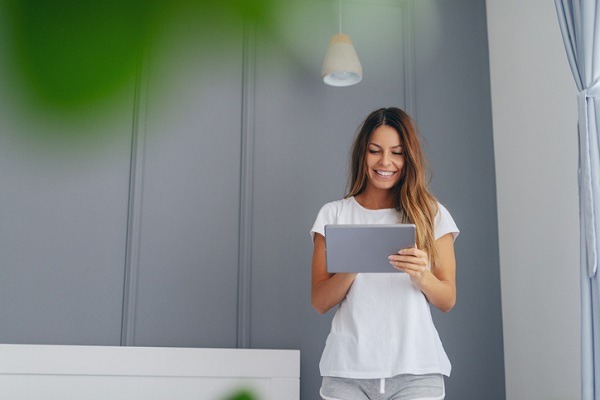 One of the biggest growth areas in technology at the moment – biophilia, or wellness – is an interesting space to be getting into. Sean Carroll looks at how companies are approaching it.
As humans, we have a genetic affinity for all living things and the natural world. That innate sense can also be defined as biophilia, one of the most uncomfortable words to pronounce and one of the hottest topics among integrators today.
For years upon years, people have always said that it's nice to get outside, get some fresh air, listen to the sound of the trees and look up at the bright blue sky. Today, technology is trying its damnedest to simulate those same positive feelings in homes and businesses.
While nothing may beat fresh air, various technology companies are finding ways to either simulate the benefits of our natural environment, trying to bring us closer to it and mimic the health benefits it can provide.
The Living Future Institute of Australia (LFIA), a non-profit organisation, has launched the Biophilic Design Initiative which touts the benefits of biophilia in our day-to-day lives and aims to achieve the goal of broad adoption of biophilic design across the design community, built environment and cities.
"Technology can actually play a part in reducing the growing disconnect between people and nature in the built environment," LFIA executive director, projects Stephen Choi says.
"Smart technology for example can provide automation in buildings to provide better contact with natural light, fresh air and views. Technology exists and continues to be developed to create natural soundscapes, smellscapes and even touchscapes that can help bring the natural world – or at least a sense of it – into our built environment."
But how?
Connected magazine editor and token bearded man Paul Skelton wrote in our June 2019 edition on the introduction of Delos in Australia and how the company is tackling wellness through technology.
Delos was created out of the desire to make our living environment more… well, liveable. The entire Delos system can filter air and water to remove any harmful toxins, metals or other nasties and additionally it has an intuitive lighting system which aligns with your natural circadian rhythm, your sleep/wake cycle.
As humans are diurnal, meaning we're supposed to be running around during the day and blue light energises us to do this, similar to the light emitted by the sun at the peak of the day. As the sun goes down at night and emits a warmer, yellow light our bodies can start preparing to sleep and release melatonin.
What's happening is that by using devices such as phones or computers or lighting fixtures with a blue light background, our sleeping patterns are disrupted and our natural body clock becomes confused.
Delos, among other providers, can program an entire lighting solution to reduce the amount of blue light we're exposed to as we prepare to settle down and sleep and alternatively expose us to more as we wake up, mimicking the suns natural patterns.
Since the CEDIA Expo 2019 where biophilia and wellness was described as a growth area for integrators, various companies are either branching out into the wellness/biophilia space in their own way or popping up with their own claim to the biophilic industry.
Simon O'Donnelly is the head of marketing (Pacific) for Signify, formerly Phillips Lighting. He recognises the importance of wellness in both commercial and residential settings and is excited at where this growing territory is headed.
"It's certainly an emerging science and while the theory has been around for many years, I think that the ability to change the inside environment is getting better all the time," he says.
As providers of lighting solutions, Signify is interested in the effects of colour temperature, light quality and our circadian rhythms.
A study by Signify into the effect of light on our circadian rhythms, the Circle of light white paper, found that harnessing our ability to maximise these sleep/wake cycles has an abundance of health benefits including reducing risk of disease and increasing our day-to-day performance, concentration, attention and creativity.
"Probably the number one impact that lighting can bring is using tuneable white," Simon says.
"Being able to range your colour temperatures from 2,700K to 6,000K would actually have an impact, whether that be around the house or in an institutional facility in terms of people's bio-rhythms and keeping them in tune with what would be a natural cycle through lighting."
Simon is very interested in the potential applications in commercial settings with a focus on employee benefits.
"Where we see the biggest impact in Australia is certainly in the small-to-medium enterprise sector," he explains.
Workplace lighting can have a significant impact on the productivity and morale of staff, as well as a role in their health and wellbeing, according to research by Signify.
A survey of 500 small-to-medium businesses found that owners that have already adopted the technology believe it improves employee engagement (36%), wellbeing (44%), productivity (43%) and leads to increased cost savings.
"We don't think about our working environment when we aren't happy but we do think about it when we are and lighting plays an exceptionally important part in that," Simon explains.
Smart home provider Savant, in conjunction with USAI Lighting, recently launched the Daylight Mode solution for the Savant App that gives users the power to completely align their lighting solutions with their body clock/circadian rhythm.
Savant is distributed in Australia by Avation.
"The tremendous technology advances in lighting allow for control and automation companies like Savant to deliver dynamic lighting control far beyond the traditional on/off/dim commands," Savant senior vice president of customer operations Angela Larson explains.
"Integrators, as technology consultants to the home, can now differentiate their proposals by offering wellness as a fundamental component of the Savant intelligent home."
Lighting technology has also been used by Vital Vio, an antimicrobial lighting solution provider, which has designed two forms of antimicrobial lighting technology that combats the growth of bacteria, fungi, yeast, mold and mildew in residential and commercial settings.
"The beauty of our technology is that it seamlessly fits within consumers' everyday lives without any added steps. By simply replacing traditional LED lights with ours, consumers can take an 'always on' approach to keeping surfaces clean with the flip of a light switch," Vital Vio chief executive and co-founder Colleen Costello says.
Vital Vio is designed to blend seamlessly in with standard lighting solutions and the antimicrobial lights can be used for as long as people would usually have their lights on, except these LED lights have the added benefit of continuously cleaning surfaces.
Colleen recognises the threat to our homes as bacteria and superbugs are becoming stronger and more resistant to antibiotics: "A smart home is also a healthy and clean home. Consumers need to be proactive about home sanitation in order to protect themselves and their families from these harmful and even deadly germs."
In addition to its white antimicrobial light he company also has an Enhanced Antimicrobial Mode, which emits a more potent violet light and is designed for use in downtimes or overnight. This more potent mode kills bacteria at a higher rate and ensures users that bacteria can be combated at all times.
"Our antimicrobial light is a great way for consumers to passively improve wellness, not requiring steep investments nor added work, aside from simply installing the lights into their homes. By pairing our continuous microbe-killing technology with current cleaning habits, people can create smarter and healthier homes," Colleen explains.
Outside of lighting, turnkey home theatre provider Rayva showcased its wellness rooms at the CEDIA Expo 2019 in Denver.
"At Rayva, we believe wellness is an experience and that it should be an excellent experience. Our objective is to create a room that allows people to escape to an environment of their choice to do what they enjoy whether it be yoga, meditation, exercise or just relaxing," Rayva president George Walter says.
"Our optimised audio, video, acoustics and lighting create the ultimate wellness environment, which is something integrators can sell today, as a way to supplement their offering and potentially increase revenues."
Rayva wellness rooms achieve what the LFIA set out as a possibility for technology: by simulating the natural environment through the powerful audio and visual capabilities.
"People using a wellness room could start their day with yoga on the beach and wind it down with a quick, 10-minute mindfulness session to clear their mind while experiencing an Alpine sunset high up in the mountains," George explains.
"They might change it up and do a Peloton session or perhaps go through a 'calm' sequence, things people do now with a much smaller screen but that would be better in life-sized proportions."
When it comes to installing these various solutions, there isn't a ceiling as such. What can be achieved on the wellness front is constantly evolving and alongside that are the opportunities it presents.
Vital Vio's antimicrobial lighting can be integrated with other products, something the company has already begun with Broan-Nutone's SurfaceShield ventilation, among others. Lighting providers and smart home control systems can already give users the ability to create a lighting schedule that aligns with their natural body clock.
These solutions are also extremely passive and can provide a huge benefit when compared to the amount of effort put in.
With the amount of advances in technology we've seen, it's exciting to think about ways in which it can advance our lives and bring us closer to our natural environment. Being a new venture for manufacturers and integrators, biophilia looks only to grow as more ways to bring people closer to the living environment are invented.