CEDIA APAC Awards 2020 – Best Media Room Level II ($150,000 and above) – Boutique AV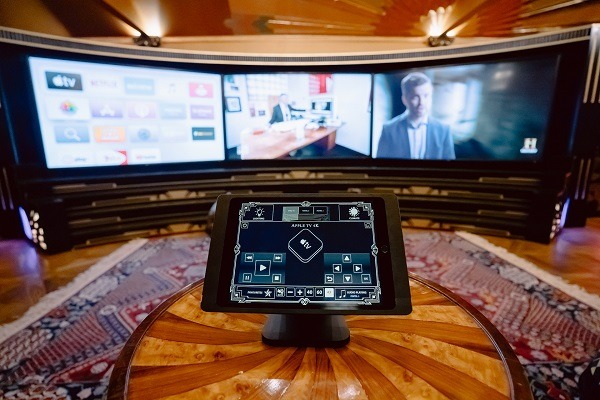 Boutique AV took the wishes of the homeowners – combining his desire for three big screens that could operate independently and her love of beautiful art deco finishes – and combined them all into this masterpiece. CEDIA's judges noted immediately that this media room, with its fantastically intuitive user interface, clever audio delivery, and brilliant – pun intended – lighting solutions, was as they put it, "SUPER creative."
"Mr. Client," according the Boutique team, wanted to work from home a bit more, and "replicate his three-screen computer station at work (on a larger scale). He further thought this design could seamlessly cater to the media requirements of his two other family members of the home (his wife and son), to be able to creatively watch TV together as a family, whether it be different or the same content."
"Our team listened carefully and designed a carefully tailored 84-inch Tri-Display AV solution.
"The family can now individually or collectively watch and listen to any of the AV sources. They can watch and listen to a matrix of options through the designed surround sound system or on one of three dedicated headphones which can be individually switched to the AV source they are interested in."
Of course, the other challenge here was created by the design and lighting that "Mrs. Client" desired – a build that perfectly reflects her love of the art deco aesthetic in a space that never compromises this heritage-listed home.
This project also picked up CEDIA trophies for Best Lighting System and Best Documentation. CEDIA's judges were so impressed, they further awarded this project the CEDIA Global Award for Media Room – this room is, literally, the "best of the best" in the world.
EQUIPMENT LIST
2N
Acti
APC
Apple
Art-Net
Bitwise
Blustream
Cool Automation
Domotz
Foxtel
Hikvision
Integra
Leviton
LG
MA Lighting
Sennheiser
Sonance
Sonos
Ubiquiti
VeraEdge
Windows PC