CEDIA APAC Awards 2020 – Best Showroom – Wired Life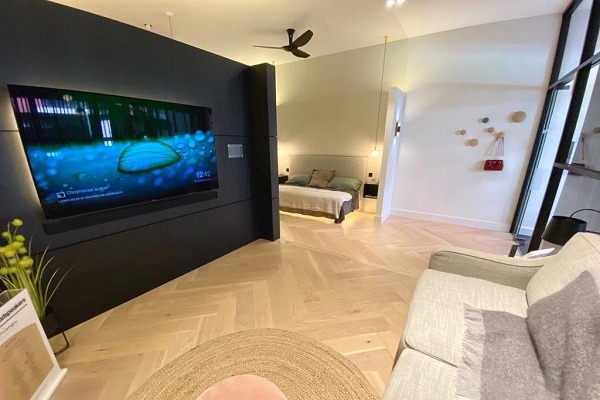 This 100-square-meter space has been designed to show off residential tech to both potential clients and the design/build community. Wired Life decided to collaborate with a lot of nearby partners (architects, interior designers, cabinet makers, light suppliers, and so on) to build on relationships, and leveraged their industry contacts. It's a real testament to the manner in which the firm has built a trusted network among the other trades.
When an integration firm builds a showroom, they generally proceed in one of two ways: either the room feels like a retail space, full of speakers and lights and gadgetry, or it's more of an "experience centre," hence the name here. Wired Life says, "We were aiming to as best as possible provide a true and extensive representation of automation within a real home environment, to better explain what it is that we do and how this can benefit our clients' lives in day to day situations."
User controls are a key part of this showroom – it's designed so that literally anyone can walk in and take command of the space with very little instruction. Whether a potential client is using a smartphone or the sound of his or her voice, the interface options are varied and intuitive.
This showroom – built for roughly $120,000 – has given the firm a return-on-investment of $1.2 million since it was completed just over a year ago. CEDIA's judges said this project was, "a lot packed into a small space, and done very well."
EQUIPMENT LIST
Amazon Alexa
Apple
Basalte
Control4
Mitsubishi
Pakedge
Sony
Triad