CEDIA APAC Awards 2020 – Best Home Cinema Level III ($200,000 and above) – McCormick Concepts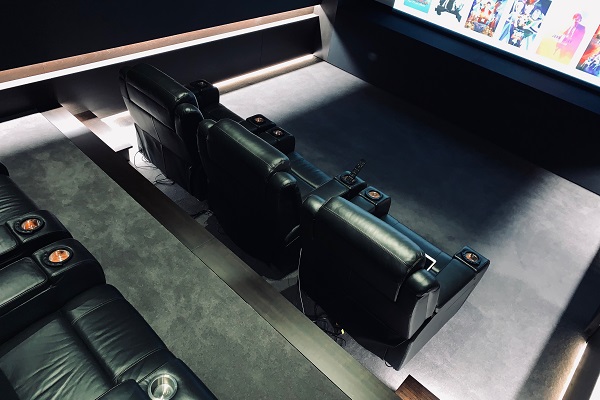 The client for the Oracle Cinema was focused on audio, and McCormick Concepts brought the goods, achieving THX reference-level audio for both rows of seats (85db with 105db peaks). Pro Audio Technology speakers, subwoofers, and amplification coupled with a Trinnov processor deliver outstanding immersive sound. As McCormick Concepts explains, "That Trinnov preamplifier was selected with 3D room equalization capabilities to really fine-tune the room and further increase the audio performance and detail." A 4K Cinewave Severston projector screen was matched with a Sony 4K projector and Lumagen video processor to ensure that video was up to par.
The McCormick team was given the following requirements when it came to the finished product. The theatre had to be:
Simple to use,
Simple to reset/reboot should the need ever arise, and
Outfitted with good sound isolation so as not to disturb the neighbours.
In order to keep the sound of the Hollywood effects inside the room – and to help mitigate any sound from the outside of the room from the dedicated HVAC system for this cinema – McCormick Concepts took great care: "Where cabling was brought into the room, the hole was sealed with acoustic filler from both inside the room and up in the roof space to ensure no was sound could enter or leave the space. In other locations cabling was brought into the false reverse coffered ceiling to add another level of protection to ensure the room remains sealed."
EQUIPMENT LIST
AC Infinity
Accent Audio
Apple
Clipsal
FIBBR
Fleximount
Kinetics
Krone
Lumagen
MSR Acoustics
Oppo
Pro Audio Technology
RTI
Sanus
Severtson Screens
Sony
Strong
SurgeX
Trinnov
Ubiquiti
Wiretek