CEDIA APAC AWARDS 2019 – Winner of Best Home Cinema Level II – The Digital Picture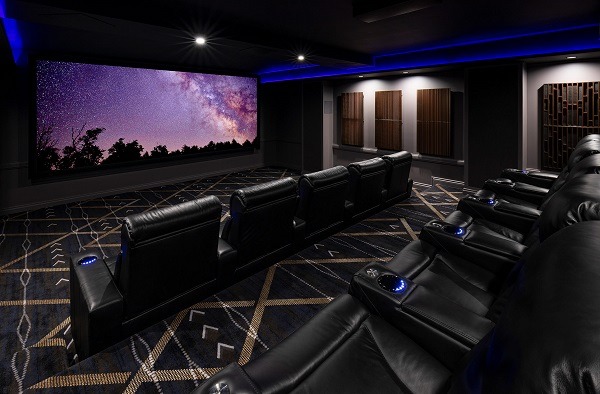 'Midnight Screening', The Digital Picture's winning entry had to satisfy two main criteria – seat numbers, and the concealing of as much equipment and technology as possible.
The client wanted ten seats as entertaining of large groups of family and friends was paramount.
The company also had to have regard to HVAC solutions as the room height was less than ideal and the integrator was limited as to locations, placement of ductwork and openings. The solutions made for an almost invisible, incredibly quiet climate control system.
The room height also had implications for the top channels in the immersive sound system. To counter that, angled Triad speakers were placed in the ceiling in a pattern that ensures and excellent experience for every seat.
The company states: "The hybrid ATMOS-AURO speaker layout from Trinnov allows the customer the best of both worlds and enables them to enjoy content other than Atmos, plus when new formats arrive the system can take advantage of them."
In terms of projector and screen, the integrator needed a projector capable of delivering a bright 4K image that could be as large as 4.3 meters wide. A BenQ 4K projector and a Lumagen Radiance Pro video processor handled the job without blowing out the budget.
CEDIA's judges were impressed by the planning and noted the care that went into the rack and cable management.
EQUIPMENT LIST:
AC Infinity, Apple, Artnovion, BenQ, CinemaWorks, FIBBR, FURMAN, Lumagen, NAV, NEUTRIK, Oppo, Pakedge, Pro Audio Technology, RTI, Row One (seats), Sanus, Severtson Screens, Triad, Tributaries, Trinnov.
ADVERTISEMENT

ADVERTISEMENT
ADVERTISEMENT

ADVERTISEMENT