CEDIA APAC AWARDS 2019 – Winner of Best Auto, Marine or Aircraft – Argus Technologies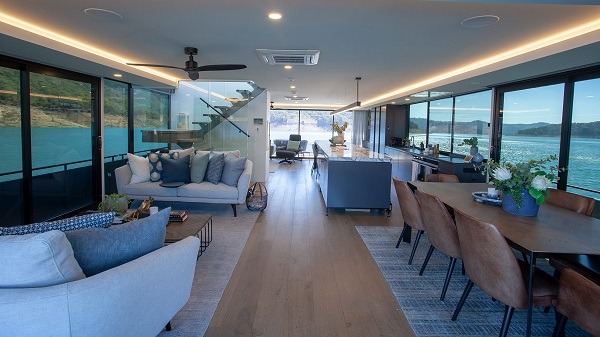 Argus Technologies' Houseboat was a purely customer-driven project with the owner simply saying they were building a houseboat and wanted to automate it.
One-button control was important; the owner wanted the boat to spring to life when the users boarded, and subsequently shut down with a single command.
To that end, there was a need for a single app for control, not multiple apps. A whole home control system was designed to tie everything together. Since the boat needs to be ready to be switched on at a moment's notice, and the vessel's battery systems are key to that function, the integration demanded two separate subsystems, one called 'Continuous', and one called 'Switched'.
When the boat is switched on, blinds are raised, security is disarmed, AV is readied for use, hatches open, and if it's night-time, welcome paths are illuminated. AC and power outlets are also readied when the boat is switched to 'on.'
The continuous supply keeps the fridges powered up, ensures that the CCTV and security systems are running, and keeps certain essential networking and automation systems going even when the bulk of the boat's systems are 'dark'.
The houseboat also has tools that allow the vessel to be monitored remotely, a CCTV setup used for both surveillance and navigation, and a combination of Control4 and Dynalite systems which are used for power and management schedules.
Argus Technologies handled this integration from the beginning of the boat's construction, managing nearly every aspect of the vessel's electrical and electronic systems.
In the words of CEDIA's judges, this is simply a "great installation."
EQUIPMENT LIST:
Active Electrical, ADM Systems, Altronics, Apple, AWM Electrical, Bright Light, Canohm, Control4, Dataworld, DriverCentral, ECD, Elsema, Honeywell, HouseLogix, Ivory Egg, Kordz, Laceys, Leader, Leckys, Marantz, Middys, MMT, Motion Dynamics, Ness, Pakedge, Phillips, Power Supplies Australia, RadioParts, Remtron, Saturn South, Seltec (ALOGIC), Skandia, Sony, TERACOM, Unios, Ultralift Australia, Westan.