AC-MX82-AUHD: home theatre and conference room all-star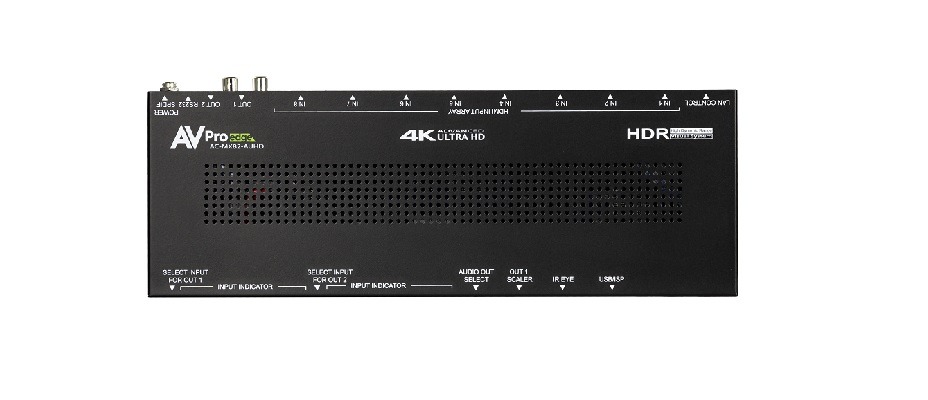 The AC-MX82-AUHD 8×2 HDMI matrix switcher engineered for 4K60 (4:4:4) at 18Gbps video distribution, with auto sensing switching and 4K to 1080p downscaling is the new standard for rack mountable chassis.
Not only that, but it's an ideal solution for digital entertainment centres, home theatres, HDTV retail, show sites, data centers, schools, conference and training centers.
The switcher allows any source including UHD Blu-ray, game consoles, satellite receiver and more to be shown at any of the connected displays. The matrix equalises and amplifies the output to ensure there is no loss of quality regardless of the length of the HDMI cable.
To overcome common AVR problems, the AC-MX82-AUHD lets users bypass full, unscaled, uncompressed video on displays and projectors while simultaneously down-scaling one output to lower bandwidth video. This feature makes it ideal for sending a second HDMI signal to an AVR.
For conferencing applications, the auto-switching mode can be configured to either both outputs together or only one output auto switch.
It also boasts extreme EDID management with 29 on-board EDID's including HDR EDID's which make not getting the picture a thing of the past. Users have the ability to instantly read an EDID from any connected display and apply it to the desired output with the push of a button.
Dual audio de-embedding lets users extract two channel audio from the L/R ports as well as  a digital optical toslink output for support for 7CH LPCM, Dolby Digital, Dolby Digital +, DTS, DTS Master Audio.
AV ProEdge is distributed in Australia by AV Distributors.
ADVERTISEMENT

ADVERTISEMENT
ADVERTISEMENT

ADVERTISEMENT