CEDIA APAC Awards 2019 – Best Dressed Racks – Digital Picture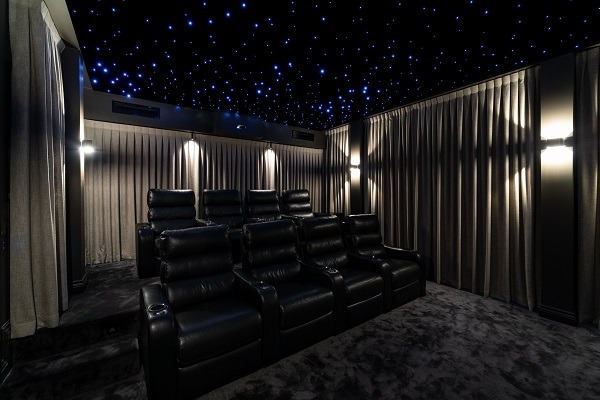 The rack for this project, already a winner in the Best Home Cinema, Level II category, drew quite a few complements from CEDIA'S judges. The biggest challenge here? Space. Terrific design allows for service and upgrades with minimal struggle in close quarters.
The Digital Picture describes the challenges with this gear: "Our client has young children and did not want them having access to the expensive AV equipment, but at the same time no additional space was given to us to install the equipment in a rack outside of the cinema in a locked cabinet. This presented two problems, where to hide the equipment (as it must not be seen), plus, how does one allow access to the Blu-ray player and game consoles?
"It was decided that the room design would include two small pull-out racks at the front of the room under the screen but behind a fabric covered panel so that the equipment was not seen or easily accessible. Then a small basic cabinet was made to sit beside the back row of seats which would house the Blu-ray player and Xbox console."
Power and signal cabling then had to be run properly to the various components.
There's a real art to building a perfect rack. Beyond space requirements, a good integrator knows how to properly bend and organize the cabling, cool the unit properly, and create a situation where the racks are easily accessible for service or future upgrades. It's akin to building a custom engine for a high-performance automobile.
The entire project won the CEDIA Award for Best Home Cinema, Level II, Asia Pacific.
EQUIPMENT LIST
AC Infinity
BenQ
CinemaWorks
Cogworks
FIBBR
FURMAN
Kaleidescape
Lumagen
MSR Acoustics
NAV
NEUTRIK
Panasonic
Pro Audio Technology
RTI
Sanus
Screen Science
Severtson Screens
Snap AV Strong
Tributaries
Trinnov