Case study: Sound Sense India, The Dark Night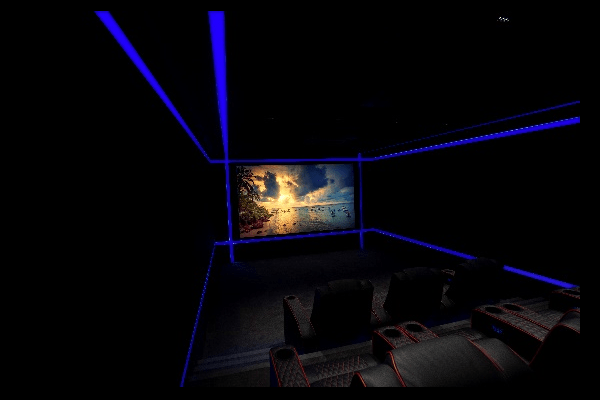 Sound Sense, an Indian integration firm, has created The Dark Night project, a high end electronics and home appliance showroom boasting a world-class home cinema set-up.
The theatre space, intended to be the owner's work respite, is conveniently located adjacent to the store showroom and office.  The existing room structure needed updates to make it a viable theatre space.
And noise isolation was a top priority while still providing an outstanding cinema experience.
"We faced a few challenges with the room design," Sound Sense founder and director Ankur Bhatt says.
"Our first obstacle was the structural planning. The entry to the cinema set-up was from the rear, center of the room. The placement of the steps leading to the room needed to be worked out as the steps immediately followed the door opening.  We selected curved steps to allow for enough space between the doors and the step landing."
He adds that the challenge of noise cancellation was tackled with floor isolation, door seals and automatic specialised drop-down door seals.
The in-wall loudspeakers also played a role in abating noise. Phase Technology's CI Custom Install three-way in-wall speakers were selected for the high-end theatre audio for their high-quality sound and noise isolating properties.
The patented CI 120 and CI 130 use a hybrid in-wall enclosure design that lowers the transmission of sound into an adjacent room while keeping the bass output at levels close to an infinite baffle design. With this design, a speaker with the same size rear enclosure will have bass output that extends up to one octave lower than a comparable speaker.
The Dark Night includes a Crestron DALI digital addressable lighting interface lighting system. The Sound Sense team used the DALI system to outline the theatre walls to create low-level lighting for a striking view of the darkened room.
"Our client was quite pleased with the theater. High-quality, reliable product solutions are the topmost priority of every AV integrator," Ankur says.