Digital signage lights up your joint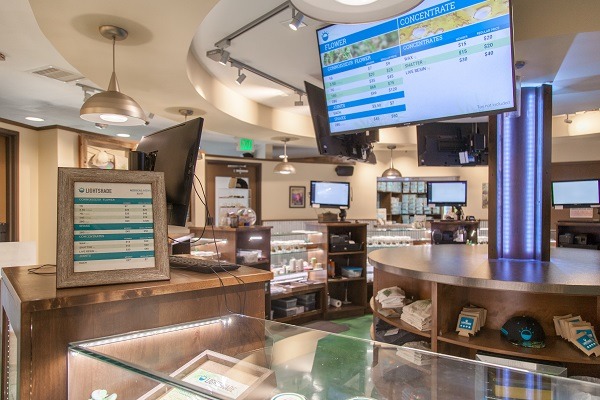 Recreational cannabis isn't legalised in Australia but the US industry has provided many opportunities for integrators. Sean Carroll looks into the high times of a growing market.
In 2012, Colorado became the first US state to legalise recreational use of marijuana and cannabis. It has been almost a decade since then; buying cannabis is now not dissimilar to walking up to the local bottle shop, and it can be purchased by both residents and tourists.
Today, it's legal in 11 states for recreational use and another 22 for medicinal purposes.
It looks as though Australia isn't far behind with the ACT legalising the growth of cannabis plants in January 2020. It should be mentioned that it's still illegal under the federal legislation to
possess the controlled drug. In Australia's capital, you're free to own 50 grams of dried cannabis, but buying the seeds or plants is illegal. Go figure…
The recreational use and normalcy of the substance in the United States has created an entire industry with which comes competition, comes marketing and as a key component of all of that, digital signage.
There are a number of commercial integrators fighting for customers' eyeballs in the legal cannabis industry – some digital signage companies are branching off into this space while some
are basing their entire business on it.
"It initially started with menu boards, really just having some type of product offering and the ability to update them in real time," Ping HD marketing director Joe Malouff says.
Ping HD is a Denver-based digital signage company that provides a full integrator service as well as a software solution with 30,000 global endpoints.
"A lot of these menus and cannabis dispensaries are really in-depth. There are a million different strains, so a lot of them are using multiple displays in portrait mode right next to each other," Joe says.
"This creates really an in-depth digital venue; it's where we initially saw a lot of requests."
Joe says that the dispensaries started ff operating like fast food restaurants, having menu boards around the store so that people can decide what they want before arriving at the counter.
Ping HD provides the software to use the signage and sells it as well.
"The first thing the dispensary needs to do is ensure its digital signage content management system (CMS) platform has done the API integration into their cannabis-based point of sale (POS) platform. Many of our dispensary customers are doing this with us and not many of our competitors have done what we have or done it as well," he says.
"There are more POS companies than there are dispensary chains now. But we are seeing the bigger chains partner with a CMS or reseller that has an established CMS."
For want of a better word, it's a pretty chill industry to be a part of. Joe says that dispensaries are taking advantage of the uniqueness of a product that was, not too long ago, illegal.
"A lot of the dispensaries are asking: How can we be innovative? How can we create a brand for ourselves? It's all about creating experiences," he says.
But its youth and taboo nature can also be a downside.
GreenScreens chief executive Shawn Cutter recognises that brands and dispensaries have limited marketing channels due to heavy regulation by current legislation.
"Their only real options are platforms that the consumer seeks out on their own, narrowing it down to the brand's website and inside the dispensaries themselves," he explains.
"This disconnect creates a unique challenge in terms of establishing brand recognition and loyalty."
Digital signage can help bridge that gap. Anyone can throw a PowerPoint on a screen but digital signage integrators with smart design can keep content updated in real time, make sure it's fresh
and changes with daily product menus, promotions and all other information relevant to consumers in the market. Shawn from GreenScreens points out that "cannabis, as a product, was already relatively easy to sell when it was illegal."
If it was popular enough while illegal, there's clearly a strong enough market for it. There aren't many products that could survive if outlawed; it's now a matter of operating as efficiently as possible within the parameters.
Dispensaries have to find ways to market their product without some of the advantages that, for example, fast food has. Legislation limits the amount of people allowed up to the counter at any
one time. With this in mind, a lot of the digital signage companies are designing solutions so people lining up can access menus and so on.
"While customers are standing back, they can go through touch screens, understand the different strains someone has and so on," Joe says.
"From an entire brand perspective; using all of those screens together can create an experience for a lot of these dispensaries that is very important to keep people coming back."
During the COVID-19 pandemic, some US cannabis dispensaries have been labelled as 'essential', staying open despite the nation-wide shutdown (while still adhering to social distancing measures and restrictions). Because of this, a lot of digital signage designers and providers have had to adapt and are seeing new business opportunities.
BrightSign, manufacturers of digital signage media players and accompanying software, are using a QR code to make cannabis dispensaries near touchless.
"Once scanned, the menu and information is sent to the customer's device," BrightSign vice president of marketing Ann Holland says.
GreenScreens has witnessed its customer base triple since the COVID-19 pandemic (you may even say its profits are higher than ever).
"We quickly pivoted to get in front of what our existing clients would need as resources to meet the needs of their customers in the face of COVID-19," Shawn outlines.
"We did this through services and strategies to drive their customers to their websites for online purchases that were fulfilled by curb side pick-up due to social distancing requirements, all while also continuing to acquire and onboard new clients."
This side of the industry has grown into what it is even without every US state adopting medical or recreational cannabis usage. We may not know when, but Australia may soon break the grass ceiling and see its own cannabis dispensaries.
When it does, integrators will have the lessons learned from the rest of the world in this budding industry.