Building wellbeing into the future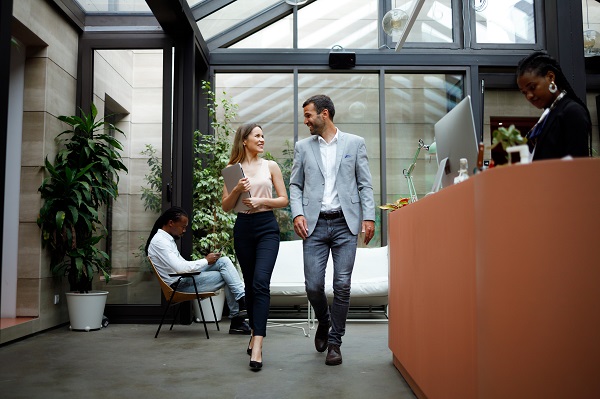 As companies start to bring people back to offices, the onus is on them to provide healthy spaces. Jack Noonan writes about WELL accredited professionals and how they can help.
As we resume a more normal pace of life, we are heading back to the office, back to hotels, back to the real lives we once had known. Things look and feel a bit different in 2022 – nowhere is this more evident than in real estate.
We've seen the introduction of solutions to make us feel safer. And what's beginning to come into focus are the massive strides by professionals in the built environment that have us looking – and operating – beyond 2022.
Coming out of COVID-19, taking care of people's wellbeing takes center stage for any organisation that competes in the pandemic-era. That is becoming a new mandate for professionals who design, build and operate workspaces, and manage the people and everything that happens inside those workspaces.
To help people deliver this promise, the International WELL Building Institute (IWBI) accredits professionals around the world who demonstrate, by passing an exam, they have the knowledge to put people first at all touch points in all places. There are more than 20,000 professionals who have either earned the WELL Accredited Professional (WELL AP) designation or are in the pipeline to earn it.
Earning the WELL AP credential prepares a new crop of individuals trained to create people-first places. This growing army of professionals do not just have the ability to deliver healthier buildings but can translate wellness know-how into our spaces that make people healthier, happier and more productive.
In Australia alone, there are nearly 1,000 WELL APs who activate the work of our offerings.  Their WELL AP credential designates expertise in WELL Building Standard (WELL), the world leading roadmap to create healthier places, and a commitment to advancing human health and wellbeing through our places. Individuals across a host of industries, from design and architecture to human resources and real estate, earn the credential by passing a rigorous exam.
In these post pandemic days, it's critical that we support our community members with the knowledge they need to create healthier spaces. COVID-19 presented unprecedented barriers
to professionals looking to advance their careers. According to PwC, health and wellness in real estate is in the top-three for new adoption and investment. The opportunity is now.
Now, more than ever, the WELL AP community is uniquely positioned to lead a global effort to support the health and wellbeing of people
Patrick Jeannerat, a sustainability consultant at REGENERATE WELL, Australia, now has a strong understanding of how spaces impact human health and wellbeing as a WELL AP:
"For me, the WELL AP credential is the best way to demonstrate a profound understanding of health and wellbeing aspects, be in the position to recommend actions for better spaces and workplaces and keep up to date with the latest trends and innovations on these topics."
Patrick is one of many who use the WELL AP credential for good. At the end of each year, IWBI awards this contingent in an annual awards program – an eagerly anticipated event where we take the time to honour those who honour others, for their dedication to educating others and advocating for buildings, organisations and communities that support global health impacts the lives of countless people, paving the way for a healthier future for all.
What makes WELL AP hopefuls quite excited this year is the revamped exam that IWBI implemented in early 2022. The updated WELL AP exam features the latest science and cutting-edge research in WELL v2, the latest iteration of the global healthy building standard. Expect more analysis and application-based questions, a project scenario and less emphasis on memorisation. There is no doubt the return on investment of this credential adds to building professionals' competitive edge as we stride into the post pandemic future.
We've seen plenty of technological advancements in these past two years, but it is the people who are pioneering and preaching who are making the difference for the future of real estate – professionals who are pioneering what the future of health and safety from the inside looks like. And it's an army of WELL APs leading the way.
ADVERTISEMENT

ADVERTISEMENT
ADVERTISEMENT

ADVERTISEMENT