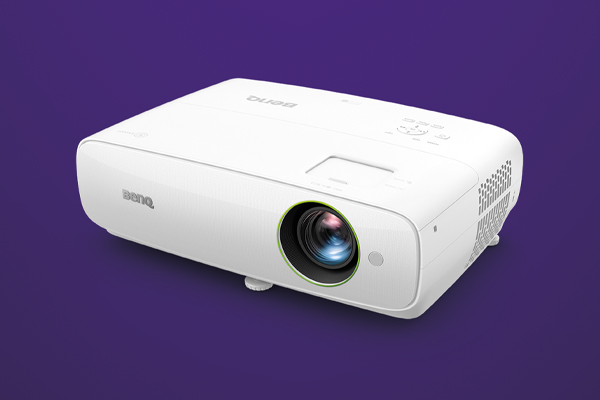 BenQ has introduced a projector with a built-in PC for the enterprise market. Nick Ross takes the new unit to task to see how it stacks up.
With the world of unified communications still booming, it's good to see innovations offering something new, especially when they have the potential to plug a hole in the market. The BenQ EH620 hopes to be such a device.
It's a portable, DLP printer with Windows 11 built-in. This means it's a (potentially) portable, standalone device that needs no additional hardware to create a boardroom-style web conference. It's aimed at the Enterprise market, but will they embrace it?
Features, connectivity, and installation
The ED620 is a beast of two parts. The first is a DLP projector with a 0.47″ DMD which produces a Full HD resolution with a 3,400-lumen brightness and 15,000:1 contrast ratio. The lamp lasts for 4,000 hours under normal operation or 10,000 – 15,000 hours when using various Eco modes.
The billion-colour, 30-bit image can be projected between 40 and 200″ from a wall (the throw ratio is between 1.13 and 1.47) and this, with the 1.3x zoom, means it can create an 80″ image at 2m. Automatic keystone correction can correct a trapezoidal image, using +/- 40° of adjustment. It can be desk or ceiling mounted.
The PC component uses a 0.8-1.8GHz, dual-core, 8th Gen Intel Celeron-4205U processor. It's flanked by 4GB RAM and 64GB of flash storage.
Windows-friendly, wired connectivity options appear at the rear and include: two HDMI ports; two D-Sub ports (in and out – a cable is included); miniUSB for firmware updates; two 3.5mm audio jacks (in and out); a serial port; Gigabit Ethernet; and four USB 3.0 ports (one with 1.5A power delivery). The latter are used for connecting a keyboard, mouse and webcam.
Bluetooth and WiFi are built in. It can also operate as a WiFi hotspot for connected devices and share the EH620's internet connection with them, which is handy.
Windows (by default) starts by loading BenQ's Uni Launcher UI app, for connecting devices, launching conferencing applications and finding files. It also provides instant access to Google Meet, Skype for Business and TeamViewer meetings. All can easily be accessed using the IR remote, this way.
It also displays shortcuts and instructions for connecting PCs, Macs, iDevices, Android devices and hardware using BenQ's InstaShare app. Miracast is also supported and our review unit also had the EZShare app installed. Four different apps can be shown on a split screen concurrently.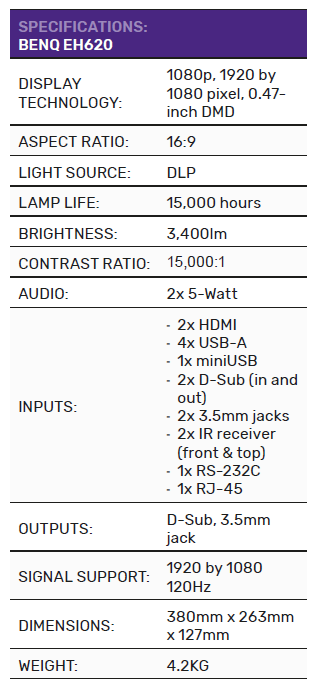 Other features include built-in 5W speakers.
Installation is fundamentally very simple in that the EH620 can be placed upon any surface and turned on (three, screw-based feet adjust height and level). The PSU is built-in, so there's only a kettle lead to cart around. It can also be ceiling mounted using an optional mounting kit that fits to the base. However, installing it using an enterprise IT network will add caveats.
Technology and performance
Being that the BenQ EH620 is fundamentally a low-powered laptop with a colossal screen, we felt it made sense to initially assess the performance using laptop tests and define the limits of the DLP technology.
We ran some video tests and were generally impressed. Full HD video runs smoothly and is colourful with impressive contrast, although details can get lost in bright areas. Nonetheless, even in a bright room, the 3,400-lumen projector produces a usable, quasi-cinematic image. There is some minor banding in colourful gradients and more in monochromatic transitions, but we often see worse on laptop screens.
Meanwhile, the twin, 5W speakers are very impressive. They get loud, offer good fidelity from top to bottom end and there's even some punchy bass. Vocals, whether musical or spoken word, are clear and distinct. They mean that the EH620 can act as a functional, makeshift cinema, in addition to a web-conferencing hub, if required.
We ran some keyboard-and-mouse-based gaming tests too. Considering the DLP technology, fast movement at the 60Hz refresh rate isn't terrible. General imagery pans smoothly but there can be significant blurring at fast-moving objects' edges. We played some casual, first-person shooter games in web browser windows and, while they took a while to load up, we found that running around levels and shooting our gun was very smooth and responsive. Competitive players will disagree.
Though office and conferencing apps took longer to load than on modern PCs, they were fully functional and responsive when operating. In this regard alone, the BenQ EH620 can be regarded as a success.
Nonetheless, it wasn't perfectly stable. On one occasion, when we had too many browser tabs open, the projector crashed and restarted. Another time, the BenQ UI froze and required power-cycling.
It's tempting to call it a portable system that could suit life on the road, but you'd need to carry around a separate keyboard, mouse, webcam and potentially a microphone. No carry case for the 4.2kg device (or peripherals) is included, so its portability benefits versus a regular laptop and projector, would be questionable.
BenQ is targeting the enterprise market, saying that the all-in-one solution requires less support or security consideration. But I'm not so sure.
A hurdle for installers will be its security impact on an enterprise network. While the out-of-the-box projector has an Onward Security Corporation security certification, inviting all manner of guest connections and thumb drives onto an IoT device running Windows will give network admins anxiety.
Furthermore, many of the EH620's WiFi connections require a connecting device to be on the same network as the projector. That will require significant Firewall configurations and can undermine both the plug-and-play promise of the EH620 and the notion that it cuts support costs.
The EH620 does contain a TPM hardware chip, but the older processor won't support the latest, on-chip Windows security technologies. Ultimately, it's hard to imagine any admin allowing an alien Windows build anywhere near its network. While we didn't install our own Windows image, we do suspect that adding end-point security alone will cause performance issues owing to the low-spec components. While a guest network would fix some of these issues, doing so would impact upon 'simple' file sharing and guest access which are core EH620 benefits.
We also had other issues with managing Windows' regular updates. Our model was initially set-up with no user policies so we could change the default discoverability of the device on the network to 'discoverable' (it wasn't at first). Standard users can't do that.
Furthermore, even with Admin privileges, we were unable to pause Windows updates. These can take an age to download and install on a machine this slow, and performance was obliterated while it occurred. Meeting (and other) apps can seriously stutter, plus we struggled to connect anything wirelessly while this was happening.
Other foibles include: the laggardly IR remote; the heat the projector pumps out (you'll need aircon); and the fact that the 28–32dB constant whoosh is noticeably not silent.
At its current price point, the BenQ costs a good chunk more than similar-spec projectors with no PC. How useful that is depends on the purchaser and how they plan to configure it on a network. There's potential for sure, but there are many barriers to delivering its plug-and-play promises.
ADVERTISEMENT

ADVERTISEMENT
ADVERTISEMENT

ADVERTISEMENT