Christie to deliver comprehensive end-to-end display and integrated solutions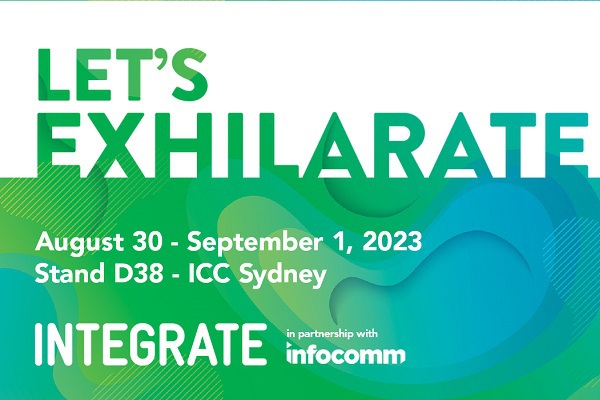 Christie will be delivering comprehensive end-to-end display and integrated solutions at Integrate 2023 in Sydney from 30 August to 1 September.
The Christie booth at D38 will welcome visitors with an exciting lineup of display and content management solutions including innovative products featuring RGB pure laser projection technology, along with powerful projection software tools, content management and processing capabilities that offer seamless and intuitive user experiences.
"At Integrate, we are illuminating the possibilities with a dynamic range of solutions that redefine visual excellence," Christie, Enterprise executive vice president Michael Bosworth says.
"From high value 1DLP laser to cutting-edge RGB pure laser projection systems and image processing tools, we're setting the stage for a new era of transformative experiences tailored to the diverse needs and budgets of our Australian and New Zealand customers, whom we are strongly committed to."
Among the main highlights are live demonstrations of Christie's 3DLP and 1DLP projection systems. These include the flagship Christie Griffyn 4K50-RGB and the Christie M 4K+25 RGB pure laser projectors designed to deliver rich, bright colours for exceptional experiences in demanding large-venue applications.
Both models feature exceptional colour performance, TruLife electronics platform with 'all-in' connectivity and remote-controlled electronic colour convergence (ECC) for simple colour alignment.
Also on show are the Christie 4K22-HS and Christie DWU1400 GS 1DLP laser projectors featuring a small footprint, lightweight, quiet operation, full suite of lenses and 24/7 operation.
Suitable for medium-sized venues, the 22,500-lumen 4K22-HS and 14,250-lumen DWU1400-GS are equipped with built-in Christie Twist and Christie Mystique compatibility for manual or automated camera-based warping, blending and alignment.
The new Christie M 4K15 RGB pure laser projector will debut at Integrate as a static display. Weighing 38.1kg and operating at a quiet 43dBA, it produces vibrant visuals that approach 98% of the Rec.2020 colour gamut.
Other models on static display include the Griffyn 4K35 RGB and an upcoming model from the expanding 4K HS Series which offers impressive visuals and high performance in a compact package.
The Christie Hedra video wall processor, which offers a secure, all-in-one control room solution, will make its APAC debut at Integrate. Paired with a Christie UHD652-L 4K UHD LCD panel for live demonstrations, Hedra is a Linux-based hardware system capable of delivering data from 9 to 27 inputs and supports video walls up to 32 megapixels in configurations up to 16 HD resolution displays.
It is the ideal choice for users to make quick and informed decisions with real-time access to data that can be controlled from virtually anywhere. Perfect for small to medium-sized command and control rooms, broadcast operations, public utilities and security and surveillance applications, Hedra will be available in three models, Standard, Pro-KVM and Pro-Video and will be set to launch in APAC in September.
Ready to impress, the award-winning Christie MicroTiles LED in 1mm pixel pitch, presented in a three-by-three array. Smaller, brighter and more flexible, MicroTiles LED delivers fully compliant HDR-10 and P3 colour space, along with patented software that keeps the wall calibrated at 97% or greater uniformity.
Attendees will have the opportunity to experience the simplicity of MicroTiles LED assembly with the versatile QuickMount system which allows for effortless mounting and dismounting of individual MicroTiles LED tiles.
MicroTiles LED is ideal for various settings, including corporate auditoriums, presentation rooms, retail and hospitality spaces as well as essential mission-critical control rooms and applications where high performance is crucial.
Christie's dynamic content management and processing solutions, including the Christie Pandoras Box Software License Version 8.8 and Widget Designer will drive captivating onscreen visuals throughout the booth. These solutions provide complete control over the entire workflow, maximizing efficiency while unleashing creative possibilities to enable the creation of amazing visual experiences.
Moreso, the Christie Terra SDVoE solution is employed for content transmission to the projectors for onscreen displays. This solution enables the transport, processing and control of audiovisual content, including 4K@60Hz video formats over 10G Ethernet networks.
ADVERTISEMENT

ADVERTISEMENT
ADVERTISEMENT

ADVERTISEMENT