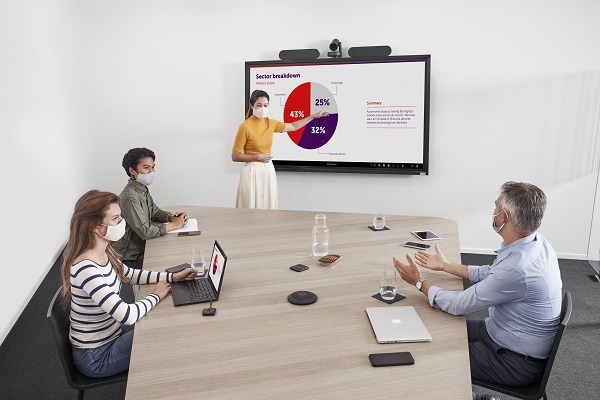 Barco's ClickShare Conferencing solution is ideal for the hybrid workplace of today. Sean Carroll finds out more, including how users can trial it for free and even connect hardware-free with the new desktop app.
With the COVID-19 pandemic changing the way we operate in our day-to-day lives, there's an increased need to facilitate the new, hybrid work environment.
A survey from Barco found that back to office scenarios are not only pushed by C-level management, they are completely in line with what employees want. More than half of the workforce is ready to return and 72% is expected to be back in the office one or more days by the end of June 2021. The survey had 800 respondents from all across the world.
A necessary experiment this time last year, working from home has largely been accepted now as a viable working system and companies are adapting to facilitate it.
"As lockdowns ease, more companies are considering a more balanced 'hybrid' approach where employees' time is split between the office and working remotely from home," Barco managing director Australia and New Zealand Claudio Cardile says.
"Having seen that remote working does not necessarily hit productivity levels, while also helping deliver added benefits such as reducing travel hours, business expenses and carbon footprint, most companies are certainly now looking at further embracing this hybrid model going forward."
Launched at ISE in 2019, Barco's ClickShare Conferencing wireless conferencing solution is a revolutionary solution that can respond to the increasing need for 'bring your own meeting' (BYOM) and hybrid environments. By plugging in a conferencing button, users can set up the AV conferencing within seconds right to the preferred platform such as Microsoft Teams, Webex, Zoom and many more.
It has been so well-received that it won the Frost & Sullivan Market Leadership Award at the start of 2021. Frost & Sullivan principal analyst Robert Arnold has the numbers to prove it: "Frost & Sullivan recognises Barco as the clear market-share leader in terms of both unit sales and revenues. To remain in the pole position, Barco has demonstrated an ability to consistently identify, prioritise and address emerging growth opportunities."
"Barco ClickShare is the de-facto standard that many competing products attempt to emulate."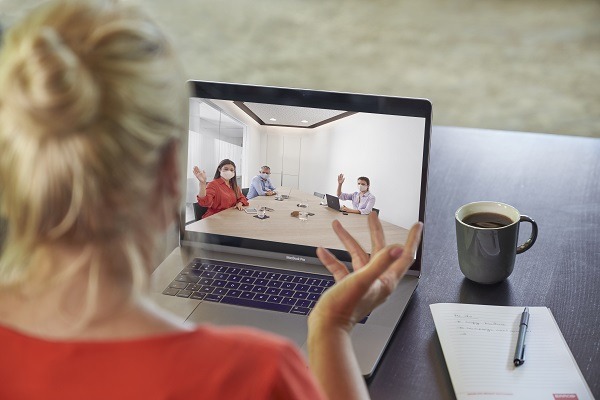 Its most recent software updates to the ClickShare Conference Base Unit and ClickShare Desktop App gives users and employees the same functionality of wireless collaboration without the need for a ClickShare Button, in addition to more advanced features such as full BYOD sharing with Googlecast, Miracast and Airplay screen mirroring, and multiple network configurations and integration options.
"The ClickShare Desktop App allows for simple and intuitive content sharing from any laptop or desktop (Windows or Mac). If you are hosting a hybrid meeting in a ClickShare Conference enabled room, you can also enjoy wireless conferencing via this app," Claudio explains.
"Engaging in wireless conferencing or content sharing can be done with either the ClickShare Button or App. ClickShare Conferences matches your digital workplace strategy. Touch or touchless, Button or App; it's your way of working, your decision."
In just one click, users can join the next virtual meeting in their agenda as the Outlook calendar automatically syncs with the ClickShare Collaboration App. The next Microsoft Teams meeting on the agenda is shown in the ClickShare App and opens automatically on click, same for Zoom, Webex or other calls as well.
Alternatively, users can choose for the plug-and-play approach to wireless conferencing and share content with the ClickShare Button.
In terms of in-call functionality, the app comes with one click mute or unmute commands, making muting anyone in the hybrid meeting easy and keeping things in sync.
The Barco ClickShare Conferencing solution is the ideal platform for hybrid working environments, removing the need for wires, cables or adaptors, just opting for wireless and seamless collaboration.
"Maybe your offices are equipped with fixed conference room solutions like a Microsoft Teams, Webex or Zoom room. Or maybe you are looking to install a fixed solution in the near future," Claudio says.
"At any rate, there is an easy way to enhance your video conference experience in these meeting rooms with ClickShare. You can step up and bring videocall collaboration in your enterprise to the next level."
At the moment, Barco is offering a try-and-buy testing platform for the ClickShare product. Any customers in the APAC region can try it free of charge to see its benefits up close and personal and then either commit to purchase or send it back. Follow this link to register for the try-and-buy program.
Barco has also recently expanded its ClickShare portfolio for hybrid meetings with the addition of the ClickShare Present range, enabling wireless presentation for any customer wanting to turn existing conference rooms into fully equipped hybrid collaboration rooms for wireless 4K content sharing. With both ClickShare Conference and ClickShare Present portfolio, Barco completes the collaborative experience with full BYOD, interactivity features and workflow integration.
To find out more about the Barco ClickShare Conferencing solution, follow this link or visit their website here.