ATEN switches offer new ways of connection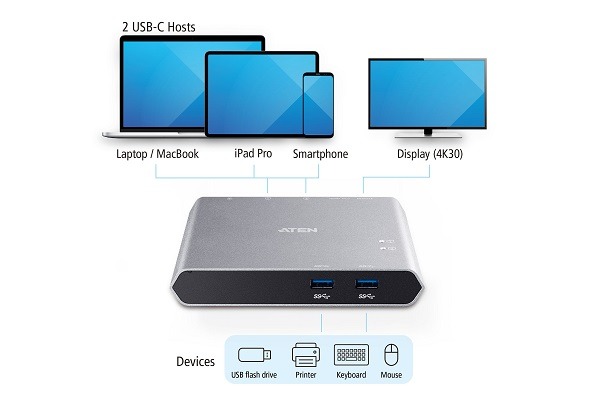 ATEN has unveiled two new USB switches with power pass-through, which offer new ways of connecting devices to your computer.
The US3310 and US3342 support 85W USB-C Power Delivery 3.0 pass-through and can charge a laptop while also providing battery for power-hungry devices such as external hard drives or gaming peripherals.
The US3310 two-port USB-C dock switch features one-button switching between devices. It uses a full feature set of USB-C with video, audio, data and power transfer within a single cable.
Key features include: share devices with two systems; two-second speedy switching; power to laptop and phone simultaneously; superior video quality and ultra fast USB 3.2 Gen 1 Data Transfer Speed; and the ability to extend the desktop environment to your smartphone.
The US3342 two-port USB-C Gen 2 sharing switch is the world's first 10G USB-C supported sharing switch especially designed for programmers, developers, system administrators, PC repair technicians, and content creators to enhance the efficiency of dual-system operations.
Key features include: share devices with two computers; share without boundaries; operate two computers as if they are one; make quicker work of everything; and power to one laptop while connected.
ADVERTISEMENT

ADVERTISEMENT
ADVERTISEMENT

ADVERTISEMENT