Amber Technology, Evoko announce partnership for Australia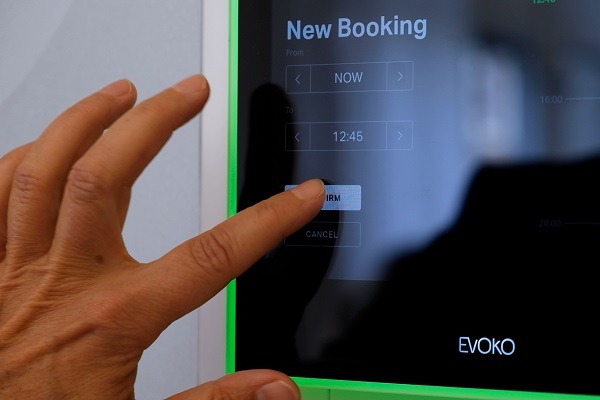 Evoko Unlimited AB has appointed Amber Technology to distribute the company's innovative room booking solutions in Australia.
The room booking products, Evoko Liso and Evoko Naso, bring together elegant Scandinavian design and innovative software to deliver on the company's goal of "making meetings magnificent".
Commenting on the addition of Evoko Liso and Evoko Naso to the company's integrated solutions portfolio, Amber Technology managing director, Peter Amos says that he sees the products as a natural complement to its wide range of AV solutions for conference, meeting and huddle rooms.
"The Evoko software integrates with the most popular 'office' platforms in use in Australia, and the extensive additional capabilities of Evoko Naso will allow end users to optimise the utilisation of meeting rooms and desks while ensuring safety for staff and visitors as we return to work in a COVID-safe manner," he says.
Evoko Unlimited chief executive Richard Glückman adds: "We are excited to be embarking on this new partnership with Amber Technology in Australia. Amber's Australia-wide representation and technical capabilities will allow us to increase our presence in the important Australian market."
Evoko Liso is a touch-screen room booking tablet for installation outside meeting rooms. In partnership with the (included) Evoko Home software application (installed on a user-provided Windows or Linux server). It also shares information with Microsoft Office, Google Workspace and other digital calendars.
Room status is indicated by a subtle coloured light 'aura' surrounding the tablet, which allows users to easily find their way to a booked meeting or to identify an available room. On approach, the summary display will switch to a detailed view showing room bookings and availability and allowing users to easily create an ad hoc booking.
Evoko Naso takes the concepts developed in Evoko Liso to even greater heights. Supported by a cloud software platform (hosted by Evoko; no user-provided server required), Evoko Naso integrates seamlessly with Microsoft 365 to display room status using both an illuminated 'aura' as well as a proximity-sensitive screen display. In addition, three optional software packages deliver capabilities for enhanced facilities management, which can underpin COVID-safe return to work practices.