ABB i-bus KNX automation helps aged care residents with MS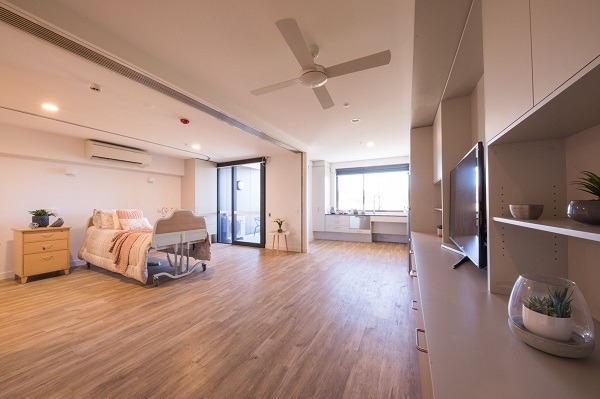 ABB's i-bus KNX building automation system, installed by SyncWise at MS Queensland's Springfield Apartments, has given 18 residents affected by neurological conditions greater independence and control of their everyday lives.
The 18 residents with multiple sclerosis (MS) and other neurological conditions moved into their homes to receive care. With many moved from other aged care facilities, the biggest difference was the addition of smart assistance technology.
MS Queensland executive general manager of services and operations Jillian Paull says the technology has been life changing. Allowing many of the residents to do more of their daily routine independently, where they would usually need support: "One resident said she'd never been able to invite a friend over and open the front door for them, because she'd never had a front door.
"Now, she has privacy and can tap her tablet to open her front door whenever she'd like," Jillian says.
Each resident has a tablet with a touchscreen configured to suit their variable dexterity that allows them to complete many tasks that they couldn't before including operating hoists to help them get up, manipulating beds to suit their desire to relax during the day or sleep at night, operating electrical appliances, changing TV channels, as well as adjusting lighting, blinds, fans and air conditioning.
"Residents love that they can speak to their friends, family, and service providers through the intercom at the street entrance then invite them in, give them access to the lift, and open their own front door – all through the tablet controls," she adds.
"It's the little things that people who don't live with a neurological condition would take for granted, but it means so much to our residents that this technology empowers them to actively control their home environment."
ABB i-bus KNX building automation system is wired into all electrical devices and power points in each of the 18 units at Springfield Apartments. The system also integrates monitoring of circuits to measure loads, faults and electricity consumption to monitor significant changes, as this might indicate when a resident is having difficulties. When the system detects large changes in electricity consumption, it activates an alarm to alert onsite support staff.
Movement sensors installed throughout the apartments also detect whether people have left a room, opened a window, or adjusted lighting and air-conditioning. This optimises energy efficiency and reduces consumption. This state-of-the-art technology is complemented by finishes and colours to make each unit look and feel unique.
ABB development manager for building automation in Australia and New Zealand says the system can deliver up to 60% reduction in home-based electricity use, depending on the number of functions and applications connected.