Nice/Nortek Control announce integration of 2GIG EDGE panel with ELAN Control Systems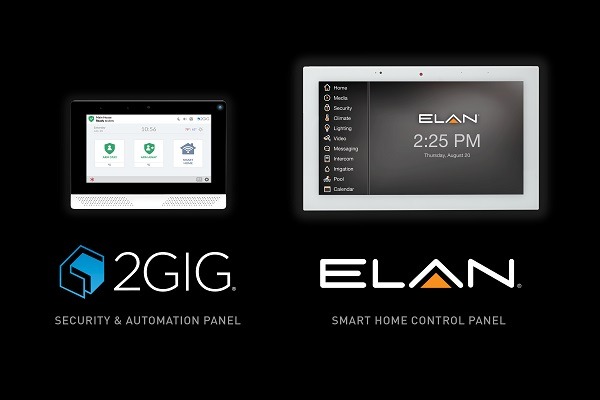 Nice/Nortek Control has announced exclusive integration of their award-winning 2GIG EDGE security panel with its ELAN Control Platform. The ELAN Control Systems and 2GIG EDGE integration offer tactical and seamless interoperability between security and control.
"We're setting the standard for security and control all from a single platform," Nice/Nortek Control vice president of product management Quinto Petrucci says.
"The innovative and award-winning 2GIG EDGE panel works together with unparalleled control from ELAN systems to seamlessly integrate and offer the highest levels of convenience, familiarity, comfort, security and personalisation. Integrating under one roof, backed by leading support, removes all the guesswork for our dealer partners."
The integration brings native control of the 2GIG EDGE security panel, the only security panel on the market with facial recognition, to the ELAN intelligent touch panel and mobile app allowing users to easily arm and disarm their home security, connect to ONVIF-compatible security cameras, doorbell cameras and directly view video and security events in real time.
The stunningly modern and sleek design of the 2GIG EDGE security panel includes a large, high-resolution edge-to-edge glass screen that eliminates plastic bezels. Powered by IntelliVision Video Analytics and engineered using edge analytics, secure face recognition touchless disarm uniquely identifies the homeowner to grant access. The homeowner's biometric data stays secure by saving it only on the EDGE panel and never to the cloud.
"Developed closely by our two R&D teams for a truly seamless experience, 2GIG EDGE and ELAN are Stronger Together," Nice/Nortek Control vice president of marketing and enablement Richard Pugnier says.
"The integration between the 2GIG EDGE security panel and ELAN Control Systems are a key part of our overall vision to deliver integrated experiences from our growing portfolio of solutions. Together, the 2GIG EDGE panel and ELAN levels up the experience for homeowners with an intuitive and elegant way to access and control their security."
The ELAN Control Auto Zone Detection simplifies installation of the 2GIG EDGE panel; once the panel has been configured, all zones and zone names will be automatically added to the system. Features include: Arm-Disarm, Zone Status, Event Based Arming, Auto Arm, History View and Zone Bypass.