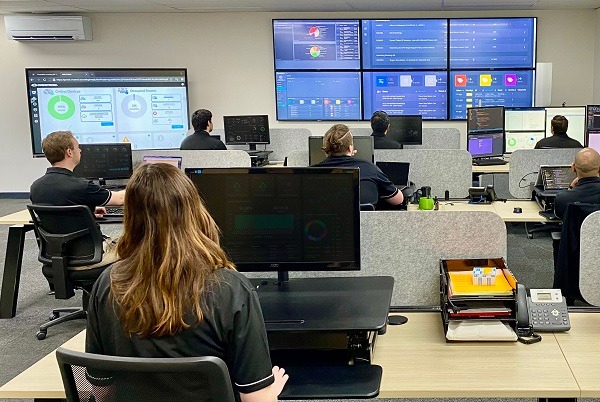 In the first of a new series, John O'Brien takes a road trip around Australia to meet and profile the guys on the ground – your local integrators. First up is Daniel Baldwin from InSight Systems.
When Daniel Baldwin teamed up with Wayne Schultz in 2003 to form InSight Systems, their goal was simple: providing great technology experiences.
The two men sensed an opportunity to "focus on delivering a complete technology solution that addresses lifecycle, ongoing support requirements and continues to enhance their client's capabilities."
Deliver that, they reasoned, and the business will flow. Identifying, then using their own strengths has also been a crucial part of their success. Daniel focuses on the technology innovation and Wayne on the sales direction, where they are both comfortable and passionate.
Continuing to grow, year after year, this company must be on to a good thing. When we talked in late 2021, they had expanded to 84 staff. Within a week, there were advertisements for more.
InSight-fulness
Since inception, InSight's approach has always been about supplying a service that supports an experience. Yes, they sell and install equipment: projectors, screens, UC, control and all the other AV bits. But hardware sales alone do not dominate their business model.
Daniel sums up the approach: "If we talk about technology purely serving as an apparatus, a device that sits in a room just like a table, then we've lost our edge."
InSight has identified that a positive user interaction with every deployed system is crucial to its successful implementation. Managing the experience of that system, so that it is always fit for purpose and easy to use, is where this team put their focus.
To this end, they concentrate on supplying and maintaining a whole package, figuring that is far more critical than any one component. They are explicitly providing and resourcing an ongoing service as part of the relationship, rather than just looking for quick sales.
When they started, Daniel found: "It was really about understanding that technology has a key part to play in workflow, a key part to play in a user's experience of their day, and in their ability to communicate a message to those they interact with."
The lesson is to make this technology intuitive and reliable, and you have a happy user. Their productivity improves and the end client's business benefits. As has InSight's.
After the initial sale
When it comes to the technology solutions that they offer their clients, they like to look long term: "Our approach is to focus on the whole lifecycle of technology. We curate it. We make sure we are travelling with (clients), making changes to their systems as their business changes. This ensures they are not locked into a technology time capsule and that users stay productive."
As we all know, tech in our industry rapidly evolves and updates. With this in mind, committing a customer to a particular item or platform that doesn't evolve with their business is short sighted.
Along with that comes managed services – these are a core and flourishing part of the InSight offering. Daniel seems particularly proud of it: "That's the curation piece. We have a purpose built VNOC (Virtual Network Operations Center) to monitor our client's infrastructure. We can make sure that the systems that we've designed are working for them. We are monitoring that 24/7."
InSight staff find the information gleaned from this live overview helps them be proactive about problem solving. Constant monitoring and automation routines to flag certain events allow the systems to: "discover the problem, then fix it remotely. That could be something that's dropped offline, it could be something coming back on after a power failure, it could be a firmware mismatch that has a cybersecurity risk attached, we monitor a huge amount of operationally critical things." All this is seamless and invisible to the end client on a daily basis.
As are all the other regular tasks part of maintaining all the tech gear in their enterprise. Daniel continues: "We talk about a technology portfolio that clients have and it's not just a projector and a microphone. We have the hardware aspect, and that needs to be managed from a firmware and security standpoint. On that hardware, typically sits an operating system that needs to be managed from a functional standpoint. The management involves planning deployment of security patches and assessing malware risks along with ensuring systems remain operational and available."
However the client chooses to manage their systems: "We know there is a need for that management to be included and it is part of our initial discussions. Whether we do that, or the client does that themselves is up to them, but it is necessary, regardless, and an incredibly important part of a successful solution."
Ongoing management
Discretely managing day to day operation of AV, UC, Collaboration and Control hardware – seamlessly handling firmware, security, functional updates for those layers – makes it easier for the clients to enjoy using those tools.
So, InSight looks far beyond a piece of gear or a quick sale: "We want to provide an experience. It's not day 1, but day 365 and day 730. Year on year, maintaining that user experience needs to be something that people understand and plan for, rather than just focusing on having a piece of product hanging in a room and leaving it there for years to come."
Getting deeper value from the monitoring systems adds equal depth to the package. "With us monitoring their environment and staying close to them; we can use data, real-usage data, not anecdotal." Having an accurate eye on usage patterns allows InSight to tailor and refine packages that actually suit the needs of their clients, rather than just providing options based on guesswork.
For Daniel and the team, it seems to be working: "We grow our managed services offer significantly every year because we offer something different, something real and something that makes a huge impact to the clients we work with."
How did you cope through Covid?
Business resilience is handy during good times but doubly so during a major shakeup such as our current world dilemma. InSight has thrived during Covid, "partly due to (the managed services offering) and partly due to a big focus on providing a service the wasn't necessarily 'feet on the ground'."
Even pre-pandemic, they had been migrating their practice in this direction. "Where service provision in the past needed five people to go and deploy in the field, we can do the same thing with one or two."
Further towards this goal, InSight have been working on adding and refining automation tools and processes. The benefits of this approach came to the fore over the last two years, with most of their team working remotely, being able to identify and rectify problems without having to step onsite.
Toolsets have been sourced or developed that: "automatically find issues and resolve them, to show (immediate) value." But the big kicker is: "logging to see if this happened before and when it happened. We'll (then) find a process to automate that resolution." Metrics from that can guide further customer decision making, all while keeping their technology experience seamless.
Competing as mid-tier
When Wayne and Daniel got together, their "goals were big without wanting to take over. We didn't want to be the top tier engineering company for all the builders in Australia. We knew we had a market to play in."
That market is their core verticals of Education, Corporate/SMB, Healthcare and Government. They do entertain occasional jobs outside this scope but generally "play in the areas where we know our strengths can't be beaten."
But a niche doesn't have to be a dead end. InSight has maintained a steady growth path over time: "We've achieved growth as our ideal clientele have grown and we are a business that rarely loses customers."
Connected to a national alliance
One of the great challenges facing growing state-based AV companies is servicing clients across borders. In scaling up to go nationwide or further, there is a lot of sunk cost incurred establishing, maintaining, and staffing regional offices.
Another option is to form an alliance with similar entities.
Connected Vision came about through industry chats between Daniel, Jason Derry of VideoPro (QLD) and John Philps of Vizcom (WA), all companies of similar scale in their respective states. More importantly, they found themselves with a similar approach to their businesses and markets. In 2014 they joined up with Leedall (SA) and ProVision (NZ) to form a network that could easily cover the Australasian market.
Daniel expands: "The advantage of Connected Vision was that we had five very strong businesses operating in each of those centres. They are not a remote outcrop of a business that (just) has three or four staff, they are long established businesses running by themselves. Technically, they've got all the assets they need to go and deliver the outcomes."
By sharing leads, learnings and clients across zones, each company in the coalition benefits while minimising commercial risk. But all relationships require trust, and this is no different. "We're about as intimate as you can get without taking your clothes off. We know each other's businesses really well. We know each other's staff incredibly well. It's as if we're the same business."
Whether an end client deals directly with one partner or the whole group is entirely their choice. Either way, national and multi-national companies can have a seamless experience across multiple locations.
Lessons for now and the future
Conversation moved to what's coming up next and it's not a piece of gear so much as a methodology. InSight's 'service-based model' is explicitly part of its customer packages. It ties in with general trends of the way people are starting to consume technology.
Three years ago, InSight moved into a purpose-built facility in Vermont, VIC. After lockdown restrictions, Daniel is "itching to get back. It's a great place to be, we really enjoy the space." Apart from being laid out exactly as they need it, this workplace employs all the technologies that they sell to clients. Not in a demo suite sense but integrated wholly into their own business practice. Daniel is very proud that "We are users as well as developers of our own product; it's a reliable part of our daily workflow. We use the technology that we tell our clients are important."
They worked out which systems are important to them by analysing and understanding their own business, now and into the future. They use the same approach with their customers: "Understanding what their business's strategy is, understanding what 12 months, 2 years, 5 years look like for them, their users and their workplace, we can then layer the workplace technology to have the greatest, long-term impact." Which leads to Daniel most prescient comment: "We are positioning ourselves more as a workplace technology provider than an AV integrator or audio-visual specialist."
We wrapped with some musings on lessons for new players. Without sharing too many trade secrets, Daniel whittled it down to this: "Know who you are and what you can do well. It's also being prepared to say no. You know who your ideal client is and the ones that don't understand the value you bring – don't waste time on them."
ADVERTISEMENT

ADVERTISEMENT
ADVERTISEMENT

ADVERTISEMENT