911, I know your emergency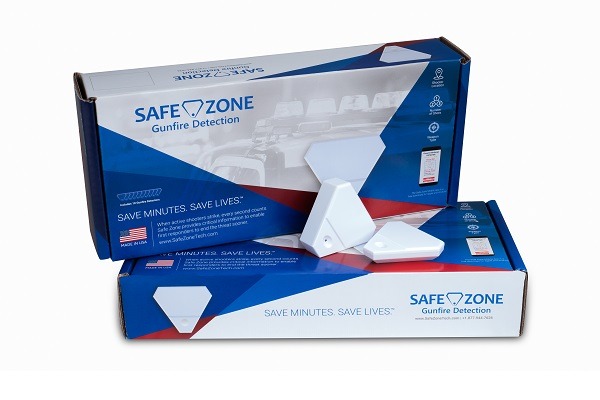 Addressing the issue of mass shooting and homicide is complex but one innovative product is doing its bit to assist police and save lives. Sean Carroll finds out more.
In 2019, according to the non-profit Gun Violence Archive (GVA) the USA had more mass shootings than days of the year.
By the end of the year, there had been 417 mass shootings, 31 of which were deemed mass murders.
On average, in live shooter situations, law enforcement personnel aren't notified until five minutes after the first shot. From there, it takes, on average, a further 13 minutes for them to arrive, with the perpetrator likely still on the loose.
One US company, Safe Zone Technologies, has explored how technology can respond to this all too prevalent issue, understanding that time is of the essence, and recently launched its Safe Zone product, a gunfire detection device.
"Safe Zone saves lives by giving authorities actionable intelligence about active shooters within seconds," Safe Zone Technologies founder and president Mike Anderson says.
"It's made up of three sensors. A spectrometer captures the muzzle flash data of the fi rearm discharge, specifically analysing the mid-IR frequencies for determining the firearm type. An acoustic sensor with mechanical attenuation to prevent saturation captures the acoustic signature, and a concussion sensor measures the impulsive atmospheric pressure change in three axes. All of this data is transmitted to a cloud-based system with sophisticated machine learning algorithms to first determine if a fi rearm has been discharged, and then the type of firearm."
From the first gunshot, Safe Zone sends a push notification to all relevant stakeholders' mobile devices, alerting them of gunfire, the location and what kind of weapon it is.
The list of people notified is unlimited and are simply added by the system administrator. Any of these people can initiate an emergency response by pressing one button.
"This triggers another sequence of events. First, the caller is connected to 911. At the same time, the alert information is sent directly to the 911 operator terminal via RapidSOS," Mike explains.
RapidSOS is a service that provides an always-on digital connection to the 911 centres, which is necessary for sending metadata on an otherwise dated analogue emergency response system.
"The floor plan and relevant information is displayed on the dispatch terminal for the operator connected to the 911 caller. In this way, dispatch has all the information needed including the floor plan and the location of the shooter in the building to relay to the officers that will arrive on scene."
Mike says that the first Safe Zone products were shipped in February but unfortunately the world went to "hell in a hand basket in March" and everything got shut down.
"We've got probably a couple of hundred projects pending in schools, office buildings, houses of worships, all kinds of applications. We're just waiting for people to get back to work, when things start to move forward again," he says.
Mike says that the Safe Zone is designed to be installed in a range of public settings including schools, houses of worship, retailers, public service buildings and more.
While public spaces may not currently be the most heavily-populated places during the COVID-19 pandemic, it has resulted in more gun sales in America. NBC News reported that gun related background checks hit an all-time high of 3.7 million in March.
Mike says that the combination of this spike in sales and pandemic-related mental health issues is prompting venue owners to take steps to enhance the safety and security of their spaces.
Safe Zone currently isn't available in Australia and New Zealand but if a distributor picks them up, they can start shipping immediately.
Mike has been working in technology for his whole career with time in automation, audio and security among others.
"We went to InfoComm with a bunch of new products including this occupancy sensor that was a combination occupancy and glass break that had enough intelligence in it that it would detect gunfire," he explains.
The gunfire detection aspect of the product drew great interest and was, Mike says, the big talking point.
"So after the show, we went back to the office to do a little research and well, we can build gunfire detectors and have five or six competitors, or we can build lighting control and have 1,500 competitors. It became a pretty easy decision."
The rest, as they say, is history and thus the Safe Zone product was born.
Safe Zone has an update in the pipeline with various follow-on products and accessories coming out that will further expand the capabilities of the system.