SGR Audio releases new range of media racks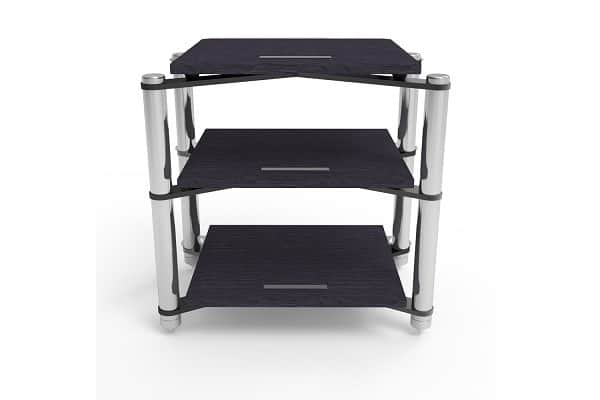 SGR Audio has unveiled its newly engineered line-up of equipment racks.
"Our new hi-fi equipment racks are a seamless blend of innovative engineering, compelling performance and luxurious aesthetics," SGR Audio chief executive Stuart Ralston says.
"Our comprehensive range offers optimal placement and isolation solutions that can be customised to suit any setup."
The range incorporates a total of six products each with its own unique package of advanced multifaceted isolation features and impeccable finishes.
"Disruptive vibrations from your equipment and from the surrounding environment inhibit and distort the quality of your sound," says Stuart.
"We have devoted years to research and development in our insatiable pursuit of sonic accuracy and clarity. Our latest layered isolation technology works seamlessly to protect and enhance the listener's experience."
The silicon isolator and cross-brace combination works with our constrained-layer damped platforms and absorptive crushed quartz-filled posts to eliminate vibrations emanating from your equipment. Model V is available is all three styles; Signature, Symphony and Statement.
"The adaptability of our product allows for optimal damping properties with adjustable placement to account for offset equipment centre of gravity," Stuart says.
"The five layers of isolation in our Model V work harmoniously together, creating a purity of sound that is unbelievably breathtaking.
"Eliminating vibrations to the highest degree, you'll be enraptured by the inconceivable level of sonic clarity. If you are serious about unlocking the full performance potential of your ultra-high-end turntable, optical disc transport or vacuum tube amplification, then our Model V Statement equipment rack is the unquestionably essential complement to your system."
Next in line is the Model III, which offers a tri-layered isolation solution. Taking guidance from our Model V, the Model III reduces interference and energy through the combination of constrained-layer damped shelves supported by crushed quartz-filled corner posts. Model III is available in Signature and Symphony styles.
"Achieve clearer detail, less distortion and superior musical presence from your solid state and vacuum tube systems with Model III's innate ability to manage distortion from high frequency vibrational energy," Stuart says.
Rounding out the range is the Model I which features solid aluminium corner posts, veneered platforms and CNC-machined stainless steel spikes between levels. It is only available in the Signature style.
"For the uninitiated, this rack will awaken a passion for hi-fi rack technology. Experience a tantalising taste of our prodigious design and exceptional engineering capabilities with our introductory Model I."
Across the range, modularity is a key feature that has been continued from the original design. Customisable heights and arrangements allow for the perfect match to be created for your equipment, and enables future expansion as required.
"The remarkable adaptability of our modular design enables the assembly of an optimum equipment rack for your individual requirements. Add to this our appealing upgrades and you'll be completely convinced of the need to look no further," says Stuart.
Depending on the model chosen, optional extras can include an extended top shelf upgrade, heavy duty cross-braces, additional isolator sets, amplifier stand and ball-race levellers.
The Signature Style is presented with engineered veneer platforms in a range of colour options. The modern design of the Symphony Style has contemporary aesthetics with spray-painted black or white satin finishes. Both styles feature the seven-step anodising process enabling an amazingly smooth finish on the posts. Finally, the Statement Style exudes luxurious opulence with its painted platforms of Quilted Maple or Walnut Burl, combined with the thirteen-step Micro Pearl anodising process on its steel components.
"Give your cherished audio equipment the phenomenally beautiful and powerfully supportive home it deserves, and be blown away by the purity of sound," Stuart says.
"Each model is an exceptional example of our innate ability to harmoniously blend customisable and striking design with innovative technology."