Just Add Power announce PoE receiver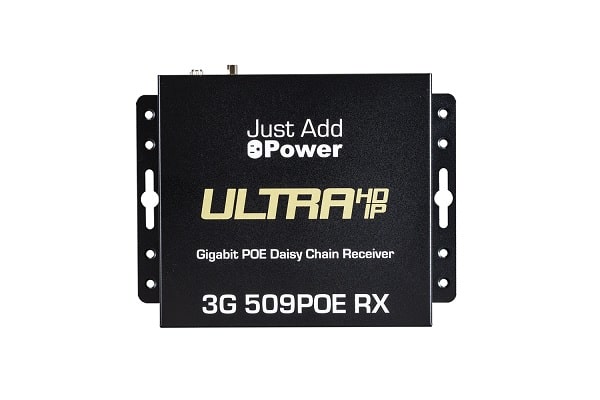 Just Add Power (J+P), distributed by Avation, has announced the new VBS-HDIP-3G 509POE Daisy Chain Power-over-Ethernet (PoE) receiver. The receiver allows installers to add multiple network devices at the endpoint or to add more receivers for customised installations. The port also passes PoE to connected devices.
"The 3G Ultra HD-Over-IP series offers incredible flexibility, ease, and performance by giving integrators the ability to build an entirely customized 4K distribution system that answers the exact requirements of any installation," says Just Add Power sales team manager Taft Stricklin.
"This new daisy-chain receiver expands on our evolutionary approach and fulfills the latest requests from integrators. With an onboard PoE network port, the receiver makes it easier for customers to expand the system without requiring Wi-Fi or another wire pull. It is now very easy to turn a legacy network into an Ultra HD Over IP network without losing the functionality previously put in place."
The new J+P VBS-HDIP-3G 509POE daisy chain receiver distributes Ultra HD and 4K video over a single Cat-5e cable without the need for fibre. With the onboard pass-through network port, any PoE device can be connected; a network soundbar, IP TV control, or a single display location can be expanded into a video wall. The receiver also easily expands the number of PoE devices that can be added to the system by connecting a PoE switch to the port. As result, installers have greater network flexibility – any system can be expanded quickly and easily when end-users want to add onto their AV experience.
With the receiver's integrated scaler, video sources can be watched at any resolution, including 4K and Full HD (FHD). It also has control end points with RS-232 and IR together with enhanced video wall capabilities with rotation. The receiver integrates seamlessly with FHD infrastructure, allowing integrators to mix and match J+P devices to build a future-proof 4K system that suits application requirement.