ABI Research releases smart home ecosystem infographic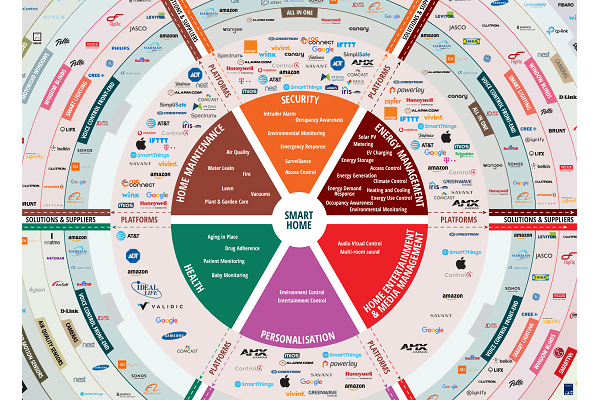 ABI Research has released its strategic Smart Home Ecosystem Infographic, which identifies more than 150 vendors in six main service sectors: security, energy management, home entertainment and media management, home maintenance, health, and personalisation.
Each service sector is a key area for adoption and growth and numerous solutions ranging from voice control and smart plugs to Electrical Vehicle (EV) chargers and motion sensors.
While some of the largest companies in the world – Amazon, Apple, Google, and Samsung – are actively engaged in the smart home market, they do not have the ability to provide everything needed in the smart home space.
This infographic provides vision on where companies need to position themselves to maximise their return on investment, create new revenue streams, identify which channel partners will maximize their go-to-market strategies and zero in on the real competitors for mergers and acquisitions as well as product development.
"The holistic picture of the smart home landscape shows it is getting more crowded with nontraditional vendors, making it more difficult for both established and new players to see where opportunities and adjacencies lie," ABI Research chief research officer Stuart Carlaw says.
"A complete look at the entire ecosystem shows how the smart home is crossing over to smart mobility and ultimately smart cities, and this will require extensive collaboration among companies; no one company can survive the smart home market alone."
Users can download ABI's Smart Home Ecosystem Infographic by clicking here.