Switch SuperSpeed USB devices with Extron's latest USB switchers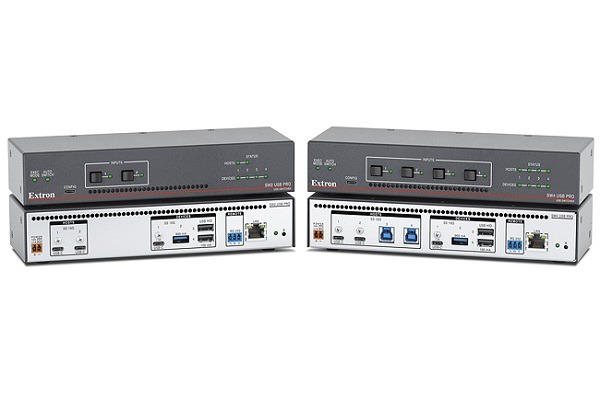 Extron has released the SW2 USB Pro and SW4 USB Pro, a two and four-input USB switcher that facilitates USB 3.2 compatible switching between multiple host devices and USB peripherals.
The two solutions give integrators easy-to-use options for USB-C and Thunderbolt hosts and peripherals with data rates up to 10Gbps.
HID peripheral ports support hotkey input switching via a connected keyboard. SW USB Pro Series switchers also support auto and manual host and peripheral switching and control via RS-232 or Ethernet.
Additionally, the two comes with 'Host' and 'Peripheral Emulation Mode' which provide a 'keep alive' function by continuously mimicking host and keyboard/mouse communications within the switcher. This emulation eliminates the need for enumeration and reduces the chance of failed device communications throughout the switching process.
"As USB installations become more and more prevalent in AV environments, so is the need to address higher bandwidth USB applications. We've developed the SW USB Pro Series to meet this need," Extron vice president of worldwide sales and marketing Casey Hall says.
"SW USB Pro switchers switch SuperSpeed USB 10G signals from USB cameras and other data-intensive USB devices between multiple host computers, equipping huddle, meeting, and presentation rooms to handle the latest USB devices."
SW USB Pro Series switchers act as active USB hubs, supplying power to attached devices. In addition, the switchers are USB 3.2 compatible including SuperSpeed USB 5Gbps and 10Gbps and are backwards compatible with all previous USB data rate specifications, including low-speed 1.5 Mbps, full-speed 12Mbps, and high-speed 480Mbps.