Xilica launches networked audio Sonia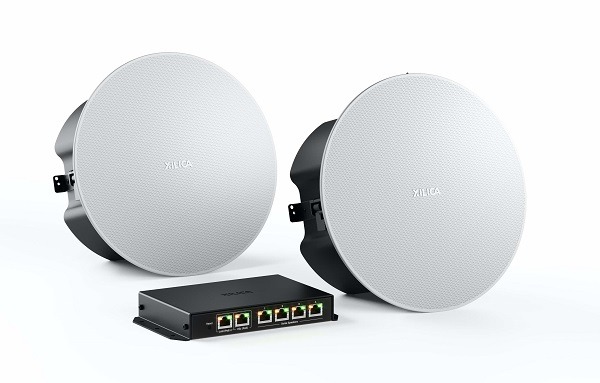 Xilica, a provider of collaboration products, has launched Xilica Sonia, a range of networked amplifiers and ceiling speakers for IT-friendly collaboration spaces.
The Xilica Sonia series modernises installed audio systems for the networked architectures common in today's meeting and learning spaces, and strengthens Xilica's value proposition as a complete solutions provider for corporate, education and government customers.
The initial Xilica Sonia series includes the Sonia C5, a compact 5.25" in-ceiling speaker with a wide, even dispersion pattern that enables fewer speakers in large spaces, such as classrooms and legislative chambers. Sonia C5 is powered by Xilica's new Sonia Amp, a PoE+-enabled amplifier with integrated network switch that can power up to eight Sonia C5 speakers in daisy-chain.
With four individual channels, one Sonia Amp can also power Sonia C5 speakers across four neighbouring meeting rooms, creating additional cost savings and deployment simplicity.
Sonia Amp's integrated network switch features a PoE port suitable for serving both power and Dante networked audio to a ceiling-mounted microphone array, such as the Sennheiser TeamConnect Ceiling 2, which creates a single CatX drop to the ceiling for a full room audio system.
Additionally, standard Category cable connectivity between Sonia Amp and Sonia C5 eliminates the need for traditional, polarised speaker wire, power calculations, and proprietary installation practices by IT technicians.
Sonia C5 offers a removable, magnetic and fully-paintable grille with detachable logo to blend into any space, and when paired with Xilica Solaro DSPs, Xilica's new VoiceMatch technology optimizes room audio and acoustics to ensure highly intelligible speech.
"Xilica's new generation of integrated room audio solutions offer a complete package that provides IT departments with lower total cost of ownership of AV technology assets inside the many spaces that they manage," said Shaun Robinson, vice president of product management at Xilica.
"Sonia takes another big step forward in developing installed audio solutions that are simple to design and deploy, while streamlining cost to enable great audio in any space."