WyreStorm launches EX-SW-0301-H2 HDBaseT switching extender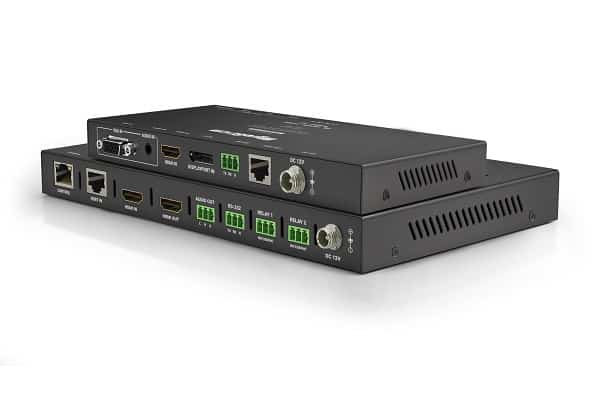 WyreStorm has announced it is launching its new EX-SW-0301-H2 HDBaseT switching extender at InfoComm 2018 at booth N1564.
The EX-SW-0301-H2 is the latest addition to WyreStorm's expanded presentation switcher line and has been designed for meeting rooms and huddle spaces that require multi-participant presentation and collaboration.
It offers logical, autonomous operation and presentation flexibility without the need for, and expense of, a control system.
A transmitter can be mounted exposed on or under a desk/meeting table for ease of laptop or PC connectivity, with the receiver installed behind a display or above a projector. Here, it can automatically activate projector screens or room curtain/blinds via dual conditions-based relay triggering.
The EX-SW-0301-H2 offers both manual and automatic switching between any of the connected HDMI, VGA with audio and DisplayPort inputs. It's HDCP 2.2 compliant, with both the transmitter and receiver connected via HDBaseT to support transmissions of 4K 8bit at 60Hz 4:2:0 and 30Hz 4:4:4 to 35m or HD up to 1920x1200p 60Hz 12bit to 60m. WyreStorm's Active Optical HDMI cables provide an ideal means of delivery.
The EX-SW-0301receiver automatically scales incoming content to the capabilities of the connected display device, ensuring no signal drop-outs interrupt the flow.  The receiver also features one-way Power over HDBaseT (PoH) to the transmitter, line-level audio output and CEC, RS-232, IR and IP (TELNET) control, with relays that can all be set to engage based on transmitter auto-switching.
Furthermore, coming shortly with a v2 update, the EX-SW-0301-H2 is set to feature a web UI for effortless setup, configuration and operation, as well as compatibility with WyreStorm's new TS-280 touch screen wall-plate controllers.