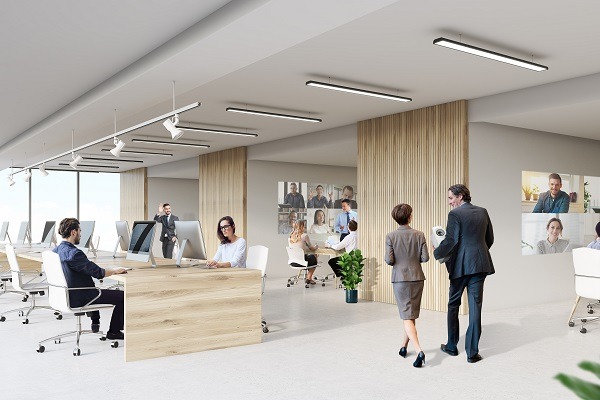 COVID-19 has changed the way we go about our business in a number of ways. BenQ looks to the future, at how AV solutions can enhance the modern huddle space when we all return to our places of work.
Due to the nature of COVID-19, employees can't work in the same spaces and it's recommended that people keep 1.5m between one another. In light of this, many have transitioned to fully working from home (WFH) or a hybrid solution of splitting time between home and the office. This also depends on their state's regulations.
This change in the way of working has resulted in a huge increase in use of video conferencing solutions. What might have been a novelty became the norm and, for some, it means learning a new technology from scratch.
IT managers and AV integrators have been in heavy demand as people had to find a way to make the 'new normal' work. But pandemic aside, from a strictly business sense, it's like all these companies just had six-plus months of intense product deployment and testing.
BenQ projector business line manager for the APAC region, Sasha Huang says that video conferencing and remote collaboration solutions for communication are in demand.
"Businesses can digitalise their work spaces to create offices that support remote meetings while facilitating efficiency, productivity and collaboration,"
And heading back into the office, there are meeting spaces that simply aren't smart to use anymore with social distancing restrictions in place.
"Huddle spaces, which are considered the nerve centre of many companies, are undergoing a complete transformation as businesses envision a post-pandemic future," BenQ product manager for projectors ANZ, Bejoy Babu says.
"Spaces that held large groups are now forced to accommodate only a handful due to social distancing measures, to ensure safety of the attendees, which makes technologies like video conferencing inevitable, especially when organisations have started offering WFH options to most employees."
So what can companies do to embrace the post-pandemic working environment?
Sasha adds that customers, vendors and partners are getting comfortable with jumping onto spontaneous video conference calls to fasten the collaboration and communication process.
Companies need an efficient way to connect their workers with everyone in the office: a solution that lets a number of users connect quickly and effectively, following the BYOD trend.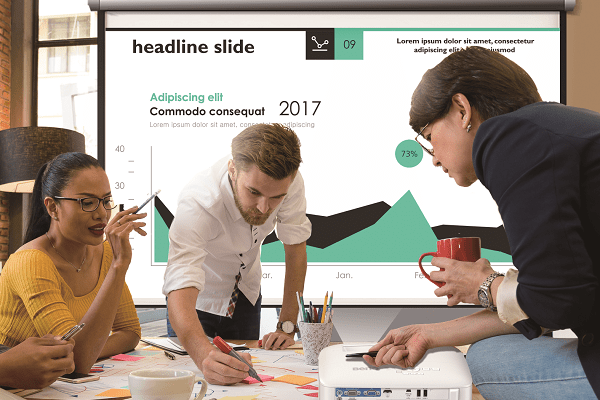 To achieve this, BenQ has released the Smart Projector, which can be completely PC-less. With an embedded Android OS, USB reader and BenQ-exclusive Account Management Software (AMS), it's made for the hybrid working environment, letting a number of people from across the company come and go as they please while efficiently sharing their content with colleagues.
"Users now have the ability to turn any space into a videoconference room," Sasha says.
"BenQ smart projectors offer a budget-friendly portable solution to solve the first problem of lack of meeting room availability. They can be installed quickly in any meeting room or huddle space within minutes. And the process is not even complicated, all one needs is a power plug and a white wall."
That issue of meeting room availability is further compounded by limits on the number of people in the one space.
Since the Smart Projector can be easily moved from room to room, employees in the office don't need to depend on the availability of one large conference room. They can utilise small-to-medium areas or huddle spaces instead.
Even working from home, as a cost-effective solution and because of its ease of use, employees working from home can set up a smart projector and create an efficient working space in the home office.
"As an example, a user can project a presentation through a smart projector by simply mirroring/casting their device onto the projector. This obviously reduces the effort and hassle that comes from connecting cables and connectors," Bejoy explains.
Users can do a number of things like browse the internet during meetings, present using the Microsoft Office compatible suite or video files by wireless mirroring or by plugging a USB drive into the projector (users can even edit files directly through the WPS app, making changes on the spot) or turn their smartphone into a remote control and navigate around the projector.
It also comes with a BenQ AMS which makes it easier for users to access Google Drive, OneDrive or Dropbox files. This means that on top of saving time with hardware clutter, it's easy for users to access their cloud documents.
"Additionally, AMS also guarantees a more effortless way for IT personnel to manage accounts, improving the efficiency and convenience of managing accounts. With AMS, BenQ smart projector for business can deliver a completely PC-free solution which users don't need to open their files via USB or laptop," Sasha adds.
With huddle spaces and working environments looking to be a hybrid of home and office work, the BenQ Smart Projector helps facilitate this combination.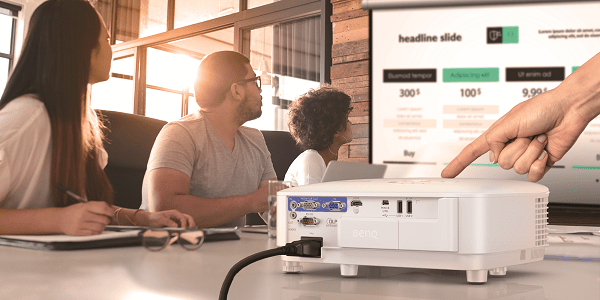 It's also incredibly future-proof simply due to the fact that it's so flexible.
Yes, it has an Android OS but it's continually updating and adding new apps and features where possible, but with the number of connection possibilities, it will stand the test of time and grow alongside the mobile devices and laptops it'll be cast from for years.
"To control the projector, users can simply connect a keyboard and mouse or use their phone to control the smart projector via an app like the BenQ Smart Control App," Sasha says.
So as we all start to head back into the office, each at varying times, it's critical that workplaces find a flexible and powerful solution that can work in a small-to-medium sized space, huddle spaces and with a range of connectivity options either in the office itself or with people working from home.
To find out more about BenQ Smart Projectors, visit BenQ.com.au or email the team directly on BQauSales@BenQ.com