VuePix InfiLED LED Screen for METRO Church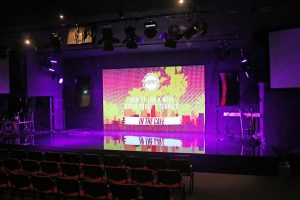 METRO Church on the Gold Coast has scored a new VuePix InfiLED screen for their worship sessions.
The Pentecostal church is affiliated with Australian Christian Churches and the HQ is run by senior pastors Garry and Kasey McDonald, who engaged Captive AV productions as their in-house AV partners.
Russell Baker from AV Productions came up with the concept of incorporating a LED video wall into the church's productions. VuePix team worked then worked closely with Russell to deliver the best solution for the venue.
The chosen technology – VuePix QE3.9mm screen – perfectly fits the purpose of semi-permanent installation.
Set up as 5m wide and 3m tall screen for their first worships, the screen features high brightness LEDs, delivering a great visual performance in any light condition.
A high refresh rate was also crucial for this installation, making sure that the screen doesn't interfere with the video equipment used to record the ministries. The clip on front mask protect the panels from damage.