Review: Origin Acoustics Valet AV850 8 Channel Amplifier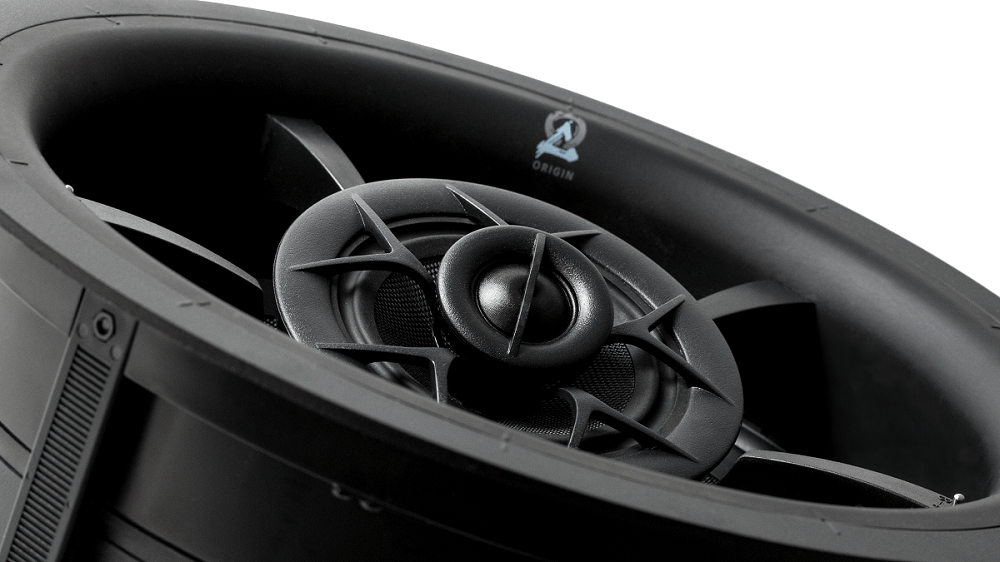 There are lots of eight channel amplifiers suitable for the installer. So why pick one over another? Well, Origin Acoustics has released its Valet AV850 8 channel amplifier with a very unusual feature: voice control. To be clear, you have to add some bits and pieces to make this happen, but this is a well thought out implementation.
What is it?
Before getting to that, let's look at the basics. The amplifiers come as four pairs, and each is capable of producing 50 watts into a 4 ohm load, or 35 watts into an 8 ohm load. Each pair can be bridged, and when bridged they have 90 watts on tap into 8 ohms – which becomes the minimum supported impedance. You can mix things up with some pairs bridged and others not.
Speaker output is via terminal blocks. Blue LEDs on the front panel indicate the channel status.
There are individual analogue audio inputs for each channel (or bridged channel pair) in the form of RCA sockets. And there's an additional pair of RCA inputs which act as a global input. Plus there's a TOSLINK optical digital audio input, which is likewise global. Each pair can be switched to accept input from their local connection or the global one.
The Valet amp also has global trigger in and out for switching, and a separate trigger out for each channel pair.
Finally, there's an additional connection for each pair of channels. It uses an Ethernet-style RJ45 socket and you will indeed use standard Ethernet cables. But these are not network connections. They are merely a convenient connection to carry power to, and bring the signal from, an Amazon Echo Dot.
Alexa
This is where things get tricky. All readers will be aware that Alexa is Amazon's voice controlled home automation system. It's similar in kind to Google Home and Apple Home/HomeKit, but it predates them substantially. Despite the head start and arguably greater maturity of the Amazon Alexa system, as of the first quarter of this year Google Home overtook it in sales.
But Google Home devices have one major drawback: none of them have a line level audio output. Sure, you can combine a Google Home Mini, say, and Chromecast Audio device, but then your voice commands get more complicated. You'd have to say, as I do, "Okay Google, play Amanda Palmer on Office Chromecast." With an Echo Dot, you can plug its output into any system but still use it as though it were using its own internal speaker: "Alexa, play Amanda Palmer."
The Origin Acoustics Valet amp is designed to work with the Echo Dot, which is the entry level speaker/microphone system for the Amazon Alexa system. And it has the virtue of including a 3.5mm output socket so that you can use external powered speakers. Or in this case, an external amplifier.
The Valet amplifier supports up to four Echo Dots. I only had one to hand, but also had only one office to hand so using multiple Dots wouldn't have worked anyway. What an installer would likely do is put one pair of ceiling speakers in each of four rooms, and one Echo Dot in each of those rooms. Then each room could independently stream music by voice command. And of course allow voice control of other smart features such as lighting.
To use the Echo Dot the Valet needs an interface. This is available in packs of four for $799. It's actually called "Valet speaker ring kit with balun". That's because it solves not just the electrical side of things, but also practical matters.
You see, for an Echo Dot to work well, it has to be able to hear the user clearly. That can be a problem, especially when music is playing. Here's where the Valet speaker ring kit is very practical. But we need to understand Origin Acoustics ceiling speakers to see how that works.

Origin Acoustics Speaker Collars
Origin Acoustics is better known for its installation speakers. It supplied a couple to use with the Valet, and they were fine speakers indeed, but more important for this review is their method of installation. They use Origin Acoustics' "Zip-Cliq" mounting system.
With this system, the body of the speaker locks into a separate collar with simple turn of a few degrees, and unlocks by turning it the other way. The collar has four straps – rails, they're called – which protrude out the back. Each of these has a plastic and spring metal clamp at its end. Each rail has a series of ridges, like a zip tie. The metal part of the clamp includes a tongue that allows the clamp to move towards the collar, but not away again, unless you depress the lock from the inside of the rails.
You insert the collar into the hole you've made in the ceiling, tighten the clamps push in the speaker and rotate it. Installation, done.
So why go on about this? The Valet speaker ring kit comes with four of those collars, along with their magnetically secured grilles, and a round plastic insert which is a mount for the Echo Dot. This insert has a hole in its middle. It's just the right size to snugly hold the Dot, while allowing access to its 3.5mm audio output and Micro-B USB power socket. The Balun is the electrical interface between the Valet and Dot. It takes the 3.5mm audio from the Dot and feeds it back to the Valet, while it supplies the power needed by the Dot. The Balun also clips onto one of the "Zip-Cliq" rails so it isn't flopping around up there. It comes with a short 3.5mm to 3.5mm audio cable, and a short Micro-B USB cable for power.
So what you do is install two speakers and one Echo Dot in the ceilings of each of four rooms. They look like three speakers, except that occasionally you will be able to see the coloured light around the ring of the Echo Dot. This is visible fairly easily through the grille from quite wide angles.
The distributor, Connected Media Australia (no relation to this publisher as far as I know), points out that a quality system for four rooms would cost only $6434 in total, with the Valet amplifier, the four pack speaker ring kit and eight Origin Acoustics Direct D61 speakers (2 way, 6.5 inch models). To that you'd need to add cabling and the cost of four Echo Dots (RRP $79 each).
In Use
The Valet amp and Balun monitor the audio output from any connected Echo Dot. When detected, it immediately switches off whatever may be playing through the relevant pair of speakers (whether being fed by one of the global connections, or by the local analogue input) and feeds the Dot's output to the speakers instead. This seemed to be instantaneous. Not once was the beginning of anything clipped off. So the user hears not just music fed by the Dot, but also voice responses by the Dot.
It's not clear whether the signal detection works in the Balun or in the Valet itself. The former has a well-populated PC board inside, so it might be doing the heavy lifting there, and then just sending a trigger down the Ethernet cable to the Valet. In addition to the sound being muted whenever there's audio from the Dot, the trigger on each channel also switches on for the duration.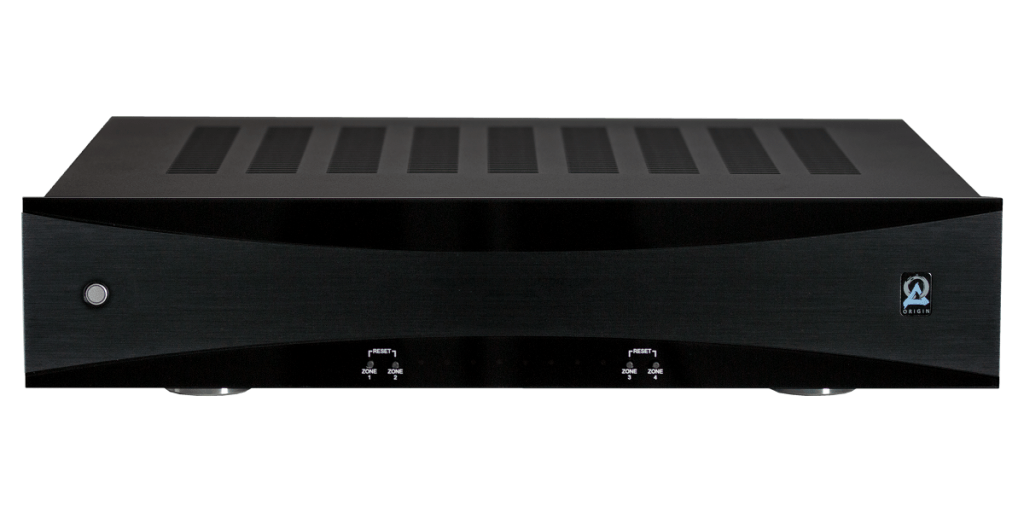 It all worked pretty much perfectly, subject only to the usual issues with voice control systems. That is, if you're playing music loud it can be hard for the device to hear you.
I used a Chromecast Audio device to feed music into the regular RCA inputs, so I could stream from either. There was no switching noise when the Valet was changing inputs. It was all very smooth.
The amplifier performed as well as you'd hope for from a device of this kind. I used large loudspeakers, and it managed them with authority.
Conclusion
So why pick the Origin Acoustics Valet amplifier over any other multiroom amplifier? I'd say because of the well-thought-out implementation of Alexa voice control.