Vaddio expands EasyIP ecosystem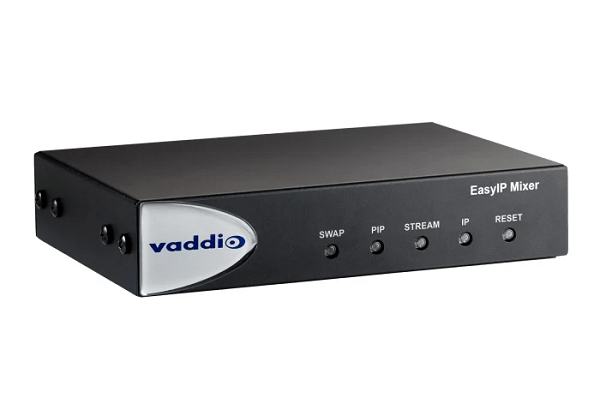 Vaddio, distributed by Legrand, has expanded its EasyIP ecosystem with the all-new EasyIP Mixer and EasyIP CeilingMIC D.
It combines multiple audio channels including up to four Dante sources, and the EasyIP CeilingMIC D and up to four cameras. The EasyIP Mixer features video switching, simultaneous 1080p/60 USB 3.0 and HDMI outputs, trigger inputs for flexible control and an HDMI input for a PC source to make it our easiest production switcher to date.
"EasyIP makes it easy to design and install multi-camera professional AV systems without the need for expensive and bulky traditional AV equipment," Vaddio product manager Rob Viren says.
"Pair the EasyIP Mixer with Dante audio sources like our new EasyIP CeilingMIC D for high-quality networked audio."
Each microphone in the EasyIP system has a three-element array, giving 360° coverage, echo cancellation and digital signal processing for crystal clear audio.
"The addition of our Dante-enabled microphones and the new production mixer allow for simple AV over IP systems to live in those larger spaces like lecture halls and government centers, all while delivering the easiest installation experience for our Pro AV partners," Rob adds.
"We are excited to add additional products building on the success of the EasyIP cameras and videoconferencing equipment launched earlier this year."