URC announces new range of products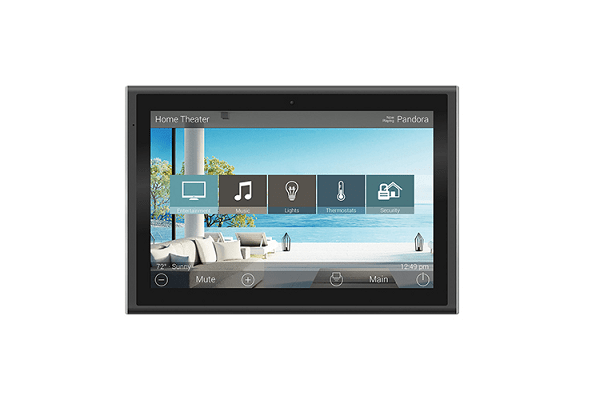 URC has announced a new range of products, including an advanced system controller, tabletop and in-wall touch screens.
Firstly, the new MRX-15 joins the URC Advanced System Controller family, bridging the gap between the residential MRX-10 and the full commercial MRX-30. The new MRX-15 is four times more powerful than the MRX-10 in the same chassis design, and the same number of IR (eight), RS232 (four), sensor (four), 12V (two) and relay (two) control outputs. The processing power onboard the MRX-15 is more than enough for light commercial and large residential applications.
To complement the new controller are two new control interfaces, aimed at the large residential or commercial environments. The TKP-9600 is the new 10″ In-Wall touch screen, featuring AV intercom, proximity sensors, soft-touch finish and night mode.
The TDC-9100 is the new 10″ Tabletop touch screen, featuring all the above with the added convenience of portability and an inductive charging pad that the controller can sit on in a single action. Both these new devices are PoE+ ready.
As with all URC products, the interfaces are customisable, allowing the custom integrator to tailor each installation to suit the end-user. Users can change room images, icons and backgrounds from the provided selection, graphics expansion packs or upload their own.
The MRX-15 is available now, with the TKP-9600 and TDC-9600 to be available in November 2018.
URC is distributed by Advance Audio.