Uniden releases 4K Network Video Recording (NVR) wired security system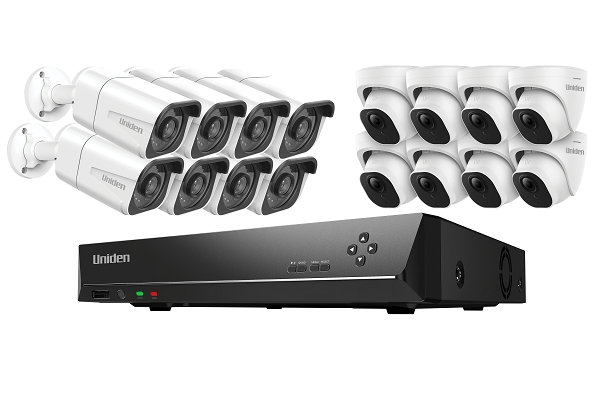 Uniden has released a Smart 4K wired security system with AI alerts for tailored 24/7 surveillance in commercial and residential settings.
Dubbed the Uniden Guardian App Cam 4K NVR system, it provides users with the option of an eight or 16 channel 4K (8MP) NVR setup, paired with any combination of cameras to suit every situation and location.
The corresponding 4K bullet and 4K dome cameras deliver 4K resolution, which is four times the resolution of 1080p, to capture, view and replay quality footage. Both camera types are weatherproof with an IP66 rating.
While both are suited to interior and exterior usage, the Bullet camera tends to be chosen for outdoor installations, while the Dome camera is flexible enough for either environment.
Mounting options are made easy with the Power Over Ethernet capability, meaning you only need one cable for each camera. This setup is flexible enough to be used in any location – from home surveillance to businesses and even warehouses. The 4K NVR offers AI smart alerts for person, vehicle and motion detection, and up to 30m of night vision for coverage around the clock, navigating its surroundings with a viewing angle of 87°, horizontally.
Users can access vision and audio playback via smartphone or tablet using Uniden's Solo App, making it easy to view the cameras, receive alerts and even communicate through the cameras with two-way audio. AI enhancement ensures notifications are received when people or cars are detected, while reducing the number of false alerts.
The Uniden Guardian 4K NVR is also compatible with wireless cameras like the App Cam Home+ and App Cam Spotlight+, making it simple to connect a Wi-Fi camera where it's not possible to run an ethernet cable.