Understanding blockchain and the custom channel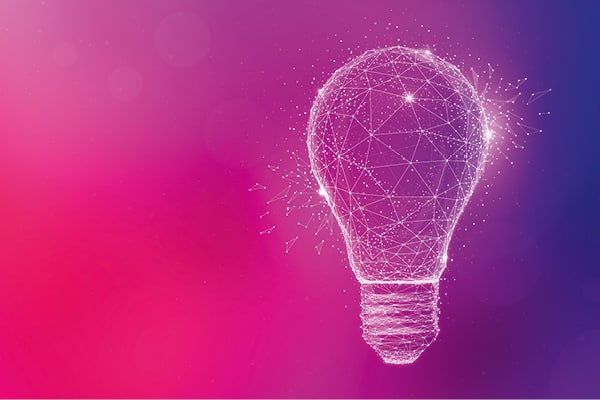 Blockchain technology has the potential to change the way many industries conduct business. But how does it all work? Cameron Grimes takes a look at how some companies are taking advantage of the technology.
Blockchain-based technology is a fairly new concept, one that can excite the informed and intimidate the unfamiliar. In simple terms, a blockchain software system allows digital trusts (e.g. online funds) to be circulated through a network without requiring a 'middle man' (e.g. banks) to verify and approve an exchange.
In its current state, blockchain technology is primarily used in the exchange of cryptocurrencies, such as the widely known bitcoin. For example, when a cryptocurrency transaction is requested, the transaction is represented as a 'block', which requires approval from both the sender and the receiver. Once approved, the block is added to a 'chain' of permanent records and the transaction is completed. In short, the lack of a middle man results in a much cheaper and faster alternative to traditional transactions.
Perth-based energy trading firm Power Ledger is one such company that uses blockchain technology as part of its business trading model.
Power Ledger is set to bring an 'energy revolution' to the world with its peer-to-peer solar energy marketplace. Though still in its early stages, the start-up company has gained worldwide attention for its contemporary approaches to changing the way solar energy is exchanged.
The company was named as one of three finalists in the 2018 Extreme Tech Challenge (XTC), a start-up competition headed by international business magnate Richard Branson.
Power Ledger co-founder and chair Jemma Green says that Power Ledger's business reflects the change in how the world exchanges goods and services, and that consumers deserve more from the energy they are producing.
"Just as Airbnb and Uber have up-ended the hospitality and transport markets, Power Ledger has the potential to change forever the way we buy and sell energy to power our homes," Jemma says.
"The owners of excess energy can sell their surplus to their neighbours for less than the uniform tariff but more than they would get from selling it to a retailer.
"Effectively, we're cutting out the middle-man to save consumers, and to maximise returns for producers."
In summary, the Power Ledger platform will act as a marketplace for consumers and producers to buy and sell solar energy, without the need to go through an energy company to complete the transaction.
In order to fuel its own marketplace, Power Ledger has introduced two forms of cryptocurrency, Sparkz and POWR tokens.
Sparkz are the 'tokenised representation' of the value of energy traded between a buyer and a seller, and are pegged to the lowest denomination of currency in each trading jurisdiction. POWR tokens are the 'fuel' of the Power Ledger ecosystem, and are used to allow access to the platform.
Schneider Electric Australia is one company that aims to benefit from Power Ledger and similar blockchain-based platforms.
"In a peer-to-peer kilowatt (kWhs) energy trading environment, such as Power Ledger, users are incentivised to optimise their energy usage so they can maximise their tradeable kWh tokens," Schneider Electric Smart Space director Ben Green says.
"Roughly two million households have solar, which have huge potential to trade kWhs in the form of tokens.
"These tokens are a valuable commodity as the demand and cost of electricity increases.
"The blockchain technology enables people to trade among themselves without having to go through a utility – this creates a bigger market and a more elastic price setting mechanism to reflect demand and supply rather than a set price."
Ben believes that the adoption of these platforms could be significant once home and business owners discover the financial potential.
"A home or business' excess kWhs can become a valuable commodity, therefore home or business owners will start to focus on how to generate and store electricity," Ben adds.
In terms of home automation, smart home technology has the potential to further increase the efficiency of energy traded on blockchain-based platforms.
"Smart home technology will become essential in monitoring energy hungry devices and managing their usage, informing consumers when to turn on the dryer because the solar system is generating enough power, for example, or dropping the blinds when the sun is warming the room above comfortable levels," Ben says.
Plenty of research is underway to determine how industries can implement blockchain technology beyond the exchange of cryptocurrencies.
A team at Western Sydney University's (WSU) Centre for Smart Modern Construction (c4SMC) is currently undertaking a research project that will review the current status of blockchain technology.
"It seems like blockchain is the new BIM-like flavour of the month," WSU c4SMC industry engagement lead adjunct professor David Chandler says.
"There is a lot of work to investigate and test the possibilities and then to consider their commercial value," he says.
"The big challenge is what questions we are trying to solve. There are many.
"The risk is that 'bit' players try to jump on the bandwagon without clear answers or purpose."
The c4SMC was opened in mid-2017 with the aim to enhance the capabilities of the Australian construction industry, through training and research in areas such as digitalisation, industrialisation globalisation and sustainability.
This current project, titled Developing a Digitalised Distributed Ledger Platform for Construction Supply Chains, will aim to investigate the application of blockchain technology in financial processes related to the construction industry and its supply chains.
In an enquiry submitted to WSU regarding the "digitisation of construction processes" in November 2016, David and WSU director of undergraduate academic programs in construction management and building design Dr Mary Hardie argued that technologies such as blockchain will offer both a "long overdue chain of custody and compliance" and a replacement for traditional progress claims.
With the research David is conducting with WSU today, he expects that the project will result in the "development of the base line foundation of a blockchain framework" for the construction industry, and a "catalyst" for the development of future applications.
"We see several possibilities but their validity needs to be researched and tested," David says.
"This platform is for the long term and has avoided any single dependency. Our research must also benefit our academic program and in turn, for this to result in more future-ready construction professionals.
"The goal is to conduct research that will have an applied benefit to industry and our Construction Management Program (CPM) within three to five years.
"I am happy to report progress, but we have just started the journey."
As blockchain technology is still in its infancy, the risks involved in industries, such as the building sector, adopting this technology in its current state may outweigh the benefits.
"Currently, the blockchain trading platforms are both new, and have a relatively small pool of users," Ben says.
"The downside with blockchain-based technologies is the adoption rate partnered with the hesitation and often intimidation to learn and understand a new technology.
"But like personal computers and software over the past few decades, it will become easier to use and people will skill up."
David adds that gaining both the sector and the public's interest and trust with these new technologies is the largest bridge to gap moving forward.
"For now, the important discovery that we have made is that early work in blockchain requires a global application perspective requiring a global legal framework to guide any outcomes," David says.
"At the centre of this is public interest. Our ability to enter the research space in blockchain and other areas is our lack of conflicts of interest.
"That does not mean that we do not have an eye to commercial realities, but we believe that this unique self-funded starting point is the right place to begin this journey.
"There is evidence to show that projects that are born out of conflicted interest or just jumping aboard the latest 'fad' are doomed."