Spatial renditioning is a key factor when it comes to creating an immersive audio experience. Anthony Grimani outlines this vital process.
If you know your stuff when it comes to home cinema, you spend a lot of time trying to get the frequency response just right. And the dynamic range too. But when your clients sit down to listen, are these the things that really get them excited?
We've noticed that the number one thing that impresses them is proper spatial renditioning. In case you are unfamiliar, spatial renditioning deals with a system's ability to produce precise imaging and soundstage either at speaker cardinal points, or between speaker pairs around the room. It is all about creating a hemispherical sound bubble around the listeners. If spatial renditioning is wrong, discrete sound effects will not come from the right place, and the ambient bubble will develop holes – or "pool" in a particular region of the room. The typical assumption is that the speakers in that region are simply louder; however, incorrect speaker time synchronisation produces a similar symptom and is, I find, more frequently the culprit behind improper spatial renditioning.

If time synchronisation gets us proper spatial renditioning, we just need to be sure to set speaker distances in the surround processor. Easy peasy citrus-fruit squeezy (that's Americanish for "simple"). Except that it isn't. Due to a variety of electroacoustic anomalies that can occur, the distance that you measure with a tape or detect with a microphone may not correspond to what your ear hears. The "real" delay may be higher or lower. Well, dang, that just got a lot more complicated!
To resolve any discrepancies, you need to manually check that every pair of speakers produces a phantom image midway between them. You're probably familiar with this concept for the L/R speakers, but the same thing happens all around you. To check imaging, play an identical signal through both speakers and make sure that the phantom image sounds like it's coming from the midpoint between them rather than from one speaker or the other. The entire spectrum of sound should come from the midpoint and not "leak" to one speaker or the other. The correct signal to use is pink noise, but it can be band-limited from roughly 500 Hz to 2 kHz.
A long time ago I made The 5.1 Audio Toolkit DVD with all the signals you need for 6.1 Channel Surround EX. But systems have way more speakers now, and I haven't gotten around to updating the Toolkit (sorry). You'll have to re-patch the rest of the speakers into the outputs that the Toolkit offers. Ugh. It's super cumbersome, I know. Alternatively, you may have a high-end surround processor that generates the signals internally, or there may be a multi-channel stereo mode that distributes them around the room. Recently, I discovered the Surround Sound Signal Generator app for Apple TV 4K from Studio Six Digital. It will light up every output (up to 9.1.6) with bandlimited pink noise. From there, you just have to mute or disconnect the speakers you aren't testing.
So you've measured or detected all the speaker distances; those values are entered in the processor. Now you're sitting down in the center seat with the test signal playing through the L/R speakers; you hear a phantom, but it's not at the midpoint (darn). What do you do? If the phantom is closer to the Left speaker, decrease the Right speaker delay or increase the R distance. If the phantom is closer to the Right speaker, increase the Right speaker delay or decrease the R distance. Keep tweaking until the phantom is precisely centred between the L/R speakers. The adjustment must be 0.1 ms or 3 cm steps to have enough resolution. An external audio processor may be required if the surround processor's steps aren't small enough.
Now you just have to rinse and repeat the process for the rest of the system. It's not literally every pair, so no whining. Go forth and conquer! If it makes you feel any better, I do this myself for every system I calibrate. So how many speaker pairs are we talking about, really?
As you move around to the side, behind, and above you, you may find it difficult to get phantom images no matter what. This occurs because our ears don't hear phantom imaging particularly well except directly in front. Paradoxically, our ears are still able to tell if time synchronisation is wrong from those directions. Annoying. To get around this, turn and face the speaker pair you're testing.
You may have already figured out that order matters, and you may work your way to the back of the room and the final pair of speakers either won't image with each other or won't image with the adjacent speakers (e.g. Bl won't image with both Sl and Br). There's no delay that works for both. You have to compromise. Try to figure out which phantom is less important. For example, in a 7.1 or greater system, it's unlikely that the Sl/Sr will need to image. Any common elements between them will be routed to the Bl/Br speakers. Thus, compromise in the direction of good phantoms between Sl/Bl and Sr/Br instead of Sl/Sr. It is, however, important that Bl/Br image well; otherwise, the system will have no way to place a sound directly behind you.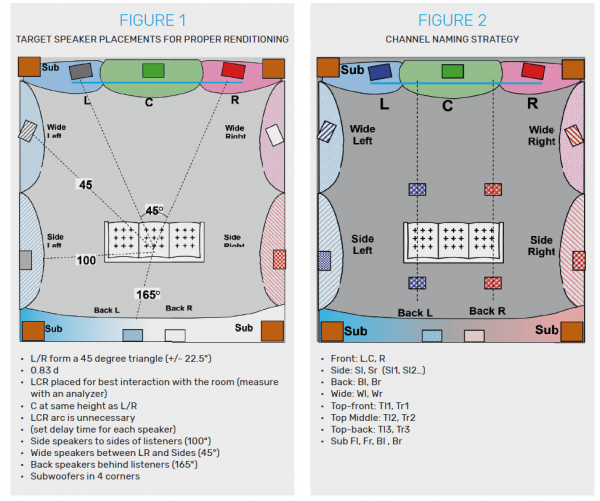 So what do you get for all your work? The immersive experience of a properly time-synchronised system is simply magical. I'm guessing you've never heard one, because they're so rare. I get feedback that it's too much work and may not make that much difference. I'll concede the former point, but the latter is just an excuse to get out of work. Proper spatial renditioning is the thing your clients are mostly likely to notice when it's right or wrong. More than frequency response and dynamic range. Don't ignore these, but don't wimp out when it comes time to set those inter-channel delays!
Chase Walton ([email protected]) contributed to this article.
ADVERTISEMENT

ADVERTISEMENT
ADVERTISEMENT

ADVERTISEMENT