Turn up the beat with new audio matrix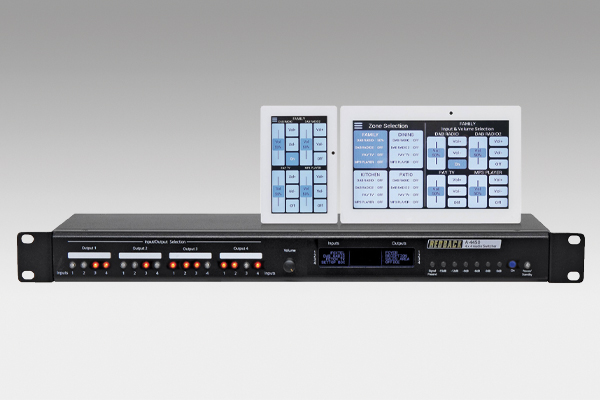 Redback has released a new flexible audio selection system for multi-source installations.
The A4450 allows for four audio sources to be distributed to four individual zones with convenient touch wall plate controls, making it ideally suited for gyms, cafes, restaurants, small clubs and function areas. Designed with end-users in mind, this controller for buildings and venues provides source selection and level control from remotely located wall plate controllers located up to 300m from the main unit.
Multiple inputs can be selected/mixed to a zone as desired. The controller offers a visual indication of which input is selected to which output on the front panel LCD and illuminated controls.
It accepts both balanced mic (pluggable screw terminals) and line level signals (stereo RCA) for four audio sources and switches them to matching individual zone outputs. Any or all inputs can be switched to any or all output zones. Input level sensitivity is adjusted using the DIP switches on the rear panel, selectable between 100mV or 1V for auxiliary RCA inputs, and 3mV or 0.7V for mic inputs.
For added convenience all inputs and output zones can be labelled for display on the LCD. This allows users to quickly see the source playing in each zone.
In each system, a single master wall plate and up to four local zone wall plates may be installed. These can be wired back individually to the A4450 or on a 'loop in, loop out' circuit with two plates each.
The Redback A4450 audio matrix is available now from Redback PA dealers and direct from the manufacturer Altronics.
See Altronics at Integrate stand B24.
ADVERTISEMENT

ADVERTISEMENT
ADVERTISEMENT

ADVERTISEMENT