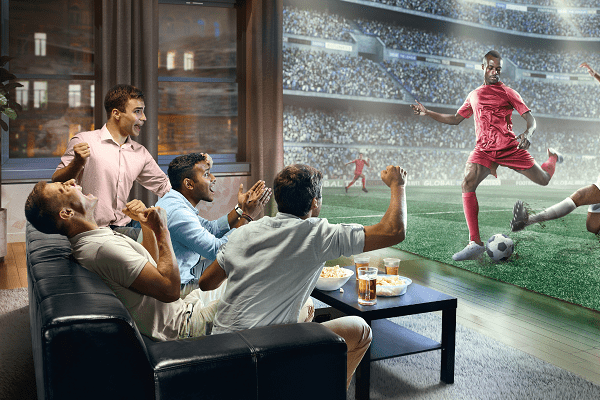 As we draw to the close of another decade (how did that happen?), video continues to consume us as much as we consume it. CEDIA's David Meyer explores what's happening in the video landscape and what may impact system design and integration.
An interesting juxtaposition has evolved in video. An increasing amount is being watched by an insatiable public on mobiles and other small screens, be it user-generated content or high production value streaming media. On the other hand, for the home we're being dealt increasing screen sizes and mind-boggling performance options with HDR, wide colour gamut, high frame rates and 8K resolution.
So how do you navigate all of this, and what's further changing that may impact design decisions, the products you specify and installation practices?
Following is a list of 10 things, in no particular order, to help you interpret the quagmire of marketing and video jargon.
1. IP VOD continues to balloon
Video currently accounts for around 80% of global IP traffic as consumers continue to cut the cord. The meteoric rise of Netflix and other such services, and move of traditional TV networks and Foxtel to more IP-based video on demand (VOD) convenience is testament to this. And let's not forget user-generated content such as YouTube with its 82 years' worth of content uploaded every day!
Helping your clients navigate the options and find the content they want is key. Do you set them up to use the apps in the TV, install a separate media streamer
like Apple TV and/or Foxtel Now box? Or is casting to the display via something like Chromecast better for them? This is all part of client discovery and setting up the system for access and control to optimise their user experience.
Another consideration is how to route the audio. It's only a matter of time before Netflix further improves its Dolby Atmos offering to higher resolution and more
channels, by which time we'll really need eARC in HDMI 2.1 to get all of that audio awesomeness from an app in the TV back to the AVR. It's a moving target, so keep on top of it.
2. Video distribution systems decline
The rise of IP content is a segue to consider video distribution in the home. If consumers are watching mostly streamed content from the cloud, with apps available at each TV in the house, do they need a video distribution system anymore? And if they do, the options are now more fragmented between matrix-based HDBaseT, or one of many flavours of AV-over-IP.
In fact, AV-over-IP was the best attended CEDIA course at Integrate Expo in Melbourne this year, indicating the high level of interest in this space. But HDBaseT is still a highly viable option too, with the new HDBaseT 3.0 spec coming out any day now, supporting uncompressed 18Gbps HDMI and transceiver ports to also break away from the fixed dimension matrix.
Keep up the research, and don't just stick to one solution. Every job is different, and keeping your options open promotes agility and profit potential.
3. Demoting 4:4:4
It's always been there, but the past few years has seen a huge rise in the use of the term '4:4:4'. We most commonly see tagged onto '4K 60', seemingly because somebody at some time decided that 4K/60 4:4:4 represented the pinnacle of HDMI 2.0. Spoiler alert — it's not. Why? Because this combo excludes HDR, which is way more important and compelling than 4:4:4. The superior format is actually 4K60 12-bit HDR (take note marketers!).
4:4:4 is borderline irrelevant anyway. Most of the content we consume is 4:2:0 — broadcast TV, streamed media, media files, DVD and Blu-ray, phone cameras and camcorders. The only exception is gaming, in which the picture is generated in native RGB. 4:4:4 is the mathematical equivalent to RGB, and HDMI supports both equally, so why not just leave it as RGB?
Admittedly this is probably more a personal rant than an actual trend, but what I'd like to see is less focus on 4:4:4, and more on the actual formats we use: 4:2:0 and RGB, and of course HDR. Rant over.
4. Compression is a good thing
Remember my entry in the Connected Tech Predictor for 2018? I said "Compression is not a dirty word". Well, to quote Rachel Hunter from the '90s, "it won't happen overnight, but it will happen". It still seems to be a dirty(… ish) word, but it shouldn't be.
Compression is everywhere. Everything we watch has been compressed, only being uncompressed for the last hop in HDMI. As with 4:4:4, the only exception is gaming where the image is generated internally and goes straight out uncompressed via HDMI or DisplayPort. Another reason why gaming is far and away the most demanding source we deal with!
Bottom line — don't snub compression. Embrace it. It's our friend, and new codecs are getting better and way faster. But like anything, there's good and bad,
so product evaluation (as always) to ascertain if it's fit-for-purpose is always recommended.
5. Compression is a good thing
Since the introduction of video we've been watching fixed frame rates. 24fps for movies, 50Hz for local TV and DVD, and up to 60fps for Blu-ray and gaming. Several years back VESA developed 'Adaptive Sync' to enable variable refresh rates from computer graphics processing units (GPUs). What that means is that instead of GPUs having to send frames in accordance with the vertical sync timing, it can send them as soon as they're ready. This formed the basis of AMD's FreeSync, and Nvidia's G-Sync is an alternative approach.
Variable refresh rates are introduced with HDMI 2.1, unlocking the prospect of this feature from gaming consoles. The display of course needs to be compatible
too. The important point here is that for it to work, any repeater level between source and display will need to be able to pass the VRR signal as well, otherwise
things could drop back to legacy fixed rates, or at worst, not work at all. It's too early to have answers yet, but I'll be keeping a close eye on it and likely writing
about it in future.
6. HDCP 2.3 is here
Yeah, I know. HDCP is about as exciting as a digital prostate examination, and coincidentally any ensuing pain is often associated with the same part of the anatomy too. But we must respect it, and the important role it plays. Plus, you have to admit HDCP doesn't present the problems it once did (or not that I see, anyway).
HDCP 2.3 is essentially just a tidiedup version of 2.2, but there was one change that could have repercussions for distributors and integrators. Every HDMI
transmitter or receiver chip has a unique set of HDCP keys. The nature of HDCP licensing previously made it hard to track where these chips were going, as a silicon distributor could sell a batch of chips to various vendors for implementation into a variety of products. If one such vendor broke the rules, DCP — the company governing HDCP — couldn't revoke keys on the batch as it might impact other innocent vendors and products. HDCP 2.3 paves the way to track specific units and revoke keys for products in breach of the rules.
What that means to us is that if products are specified and installed that at a later date have their keys revoked, the product will be bricked. Permanently. The main thing to avoid is any form of HDCP stripping or conversion. While perhaps a problem solver, they may turn into a nightmare down the track.
7. Lots and lots… and lots… of colour
The Holy Grail for video has been the ability to accurately reproduce Coca-Cola red, or alternatively Ferrari red. To date we've been getting a variation of orange. If you disagree, try seeing these 'reds' in BT.2020 colour with HDR, then go back to legacy video. Yep, orange. It will ruin you, as it did me. Now I can't wait to
get BT.2020 at home.
So to clarify, BT.2020 colour (often called Rec.2020) is the size of the colour container from which content and video systems can use colours. It sets a maximum palette, but not a minimum. It actually contains BT.601 (SDTV), BT.709 (HDTV) and DCI-P3 (D-cinema) colour, and then some. So if you see BT.2020 specified, it doesn't necessarily mean that a given product supports the whole range. It just means that's the standard it works to, as is required for 4K and 8K UHD.
Oh, and BT.2020 calls for only 10- or 12-bit colour, as eight bits are simply not enough anymore. Technically there's no such thing as BT.2020 or HDR at 8-bit.
8. Sharpening HDR navigation skills
With HDR10, HDR10+, HLG, two different transport methods of Dolby Vision, and Technicolor SL-HDR1, 2 and 3, and then HDR certifications including UHD Alliance's Ultra HD Premium, Eurofin's 4K Ultra HD, and seven different levels of DisplayHDR from VESA, it's a veritable game of Guess Who?. But it's the integrator that has to make it all work, right?
If you're not already familiar with the different permutations of HDR, then I can only advise to become so. Ensuring compatibility of not only HDR, but the specific desired formats of HDR throughout devices in the system is an important first step to getting things working as expected.
9. Video walls are the new elite
Projection has always been the king of the big screen. But HDR disrupts this. I've seen dual stack projectors with modulated blacks to achieve a decent looking HDR range, but still not comparable to emissive displays. Modular video walls will become the new superelite option for home cinema, as will also be the case in commercial cinemas. In fact, The CEDIA Designer tool has just introduced Samsung's The Wall as a highend display option.
10. Fibre lights the way
The only transport technology that will be capable of supporting all of the features and formats of HDMI 2.1 (at least initially) will be optical fibre. Sure, HDBaseT and AVover-IP can use excellent compression codecs, but they will only go so far. Any format over 48Gbps in HDMI will first need to be decompressed before going into any secondary compression for transport, then reversed again at the other side for delivery to the display. But with fibre, the signal can be mapped
bit-for-bit from electrical to optical and back again without the need to decode or decompress the signal, ensuring everything remains unadulterated and
intact. That gives the best chance of interoperability and pristine performance. Product dependent, of course. It needs to be at least 48Gbps (4x 12Gbps), and
comply to HDMI power requirements, etc.
To that end, I recommend running duplex fibre from AV devices to primary displays, then Cat 6A to secondary displays for direct IP and/or distributed AV system capability.
Happy designing and integrating!