The dangers of working around asbestos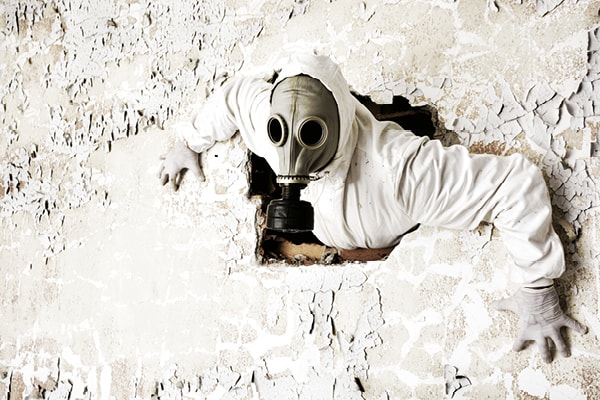 Despite doing work in older homes as part of retrofit applications or heritage projects, many integrators don't know the signs of asbestos or the dangers of exposure. Adelle King reports. 
Over the past decade there has been a wealth of information published on the importance of asbestos awareness for those working in the construction industry. However, for integrators, it is an issue that is often neglected.
Although some in the industry may think asbestos isn't much of a concern, all people doing work on homes and properties, particularly retrofits and heritage works, are at risk of asbestos exposure.
The World Health Organisation (WHO) has stated that there is no safe level of exposure to asbestos fibres, which are released into the air when asbestos is disturbed and can cause serious health issues if breathed in. These fibres are not visible to the naked eye, don't break down over time, can remain airborne for an extended period of time and can travel large distances.
The manufacture, use, reuse, import, transport, storage or sale of all forms of asbestos has been banned in Australia since December 2003. However, Australia was one of the highest users of asbestos per capita until the 1980s and as a result, one in three Australian homes still contain asbestos, according to Asbestos Awareness.
This is concerning given a lot of integrators are drilling recesses for speakers in retrofit applications or looking to chase cable through walls, yet do not understand the risks associated with asbestos exposure.
"The problem with asbestos is that the fibres are odourless and tasteless so there's no way of knowing just by looking at a product whether it contains asbestos. This makes it difficult to determine the specific exposure levels that would cause health problems and that's why the message is that there is no safe threshold of exposure to asbestos," says The Bernie Banton Foundation awareness and support co-ordinator Rod Smith.
The Bernie Banton Foundation was founded in 2009 by Karen Banton, whose husband Bernie Banton became the widely recognised face of the legal and political campaign to achieve compensation for sufferers of asbestos-related diseases. Bernie was diagnosed with asbestosis in 1999 and then with mesothelioma in August 2007. He passed away in November 2007.
What is asbestos?
The WHO defines asbestos as referring to a group of naturally occurring fibrous minerals that are found in rocks, sediment and soil. Asbestos is flexible, extremely durable and resistant to heat, chemical corrosion and electricity. This made it a popular material for use in a range of household, commercial and industrial products, including insulation in buildings, cement sheeting, imitation brick cladding, roof shingles, drains, vinyl floor tiles, plaster patching compounds and profile sheets used on roofs.
Asbestos building materials are described as being either friable or non-friable.
Friable asbestos is loosely bound material containing asbestos that can be crumbled, pulverised or reduced to powder by hand pressure when dry. Friable asbestos was mainly used in industrial applications but some homes may contain friable asbestos in spray-on insulation and soundproofing, insulation on hot water pipes or decorative ceiling coatings.
Non-friable asbestos, which is the most common type of asbestos material in homes, is asbestos mixed with a bonding compound such as cement. It cannot be crumbled, pulverised or reduced to powder by hand pressure when dry. Common uses for non-friable asbestos in homes include corrugated or compressed asbestos cement sheets and floor tiles.
The risks
Asbestos exposure occurs when asbestos or asbestos containing materials are disturbed, creating a dust of asbestos fibres. These fibres are approximately 50 to 200 times thinner than human hair and can get trapped in the lungs, causing asbestos-related diseases when breathed in.
According to Asbestos Awareness, 13 Australians die every week from asbestos-related diseases and the Asbestos Diseases Research Institute says this number will remain high in coming years.
There are two categories of disease caused by asbestos exposure, non-cancerous and cancerous diseases.
Non-cancerous asbestos-related diseases include:
Pleural disease
There are two types of asbestos-related pleural disease, pleural plaques and diffuse pleural thickening. Both involve inflammation of the pleura, a thin membrane that surrounds the lungs and diaphragm, which causes pleural thickening.
As asbestos fibres collect in the pleural, they cause fibrotic scar tissue to accumulate, stiffening the pleura and preventing the lungs from fully expanding. When the pleural scarring is limited to one location it is called pleural plaques, while diffuse pleural thickening refers to widespread scarring.
Asbestosis
This is caused by the inhalation of large quantities of asbestos fibres, causing long-term inflammation and scarring to the lungs. The scarring within the lung tissue causes the lungs to progressively stiffen, making it difficult to breathe.
The WHO states that all forms of asbestos are carcinogenic to humans, meaning it is a cancer-causing substance. The two main cancerous asbestos-related diseases are lung cancer and mesothelioma.
Lung cancer
Although smoking is the primary cause in most cases of lung cancer, according to The Mesothelioma Center, 4% of lung-cancer cases can be traced back to asbestos exposure in America.
Long-term exposure to asbestos greatly increases a person's chance of developing lung cancer, particularly if they also smoke.
Mesothelioma
Mesothelioma is the most common of the asbestos-related diseases monitored in Australia because there is a strong causal link between asbestos exposure and the disease.
Mesothelioma is a cancer that affects either the lining of the lungs (pleural mesothelioma) or the lining of the abdomen (peritoneal mesothelioma). There is no known cure and the average survival time after diagnosis is 10-12 months, according to the National Asbestos Awareness Campaign.
Since 2003, approximately 600 Australians have been diagnosed with malignant mesothelioma each year and in 2015 there were 675 deaths caused by the disease, according to Cancer Council Australia.
However, Rod says this number could actually be a lot higher.
"The problem with mesothelioma is that it's extremely hard to diagnose because the symptoms mimic other diseases so we believe there are a lot of people in Australia who aren't diagnosed or are misdiagnosed. The only way to conclusively diagnose mesothelioma is to undergo a tissue biopsy, which is invasive surgery."
Asbestos safety
Although some people think of asbestos as a thing of the past, it is still commonly found in many homes around Australia. Generally, the rule of thumb is to treat every house built or renovated before 1990 as likely to have asbestos in it. However, some newer homes may also have asbestos buried beneath and around the building leftover from the original construction.
"Asbestos was used in over 3,000 products before it was banned and many of these materials are still in use today. Most people only talk about this issue in terms of building materials but asbestos was used in a range of things and that's why it's so important to take precautions everywhere in the home," says Rod.
"People mistakenly believe asbestos is only found in roofs and walls but products containing asbestos can also include air vent mouldings, backing panes in electrical meter boards, ducts, lagging on hot water pipes, eaves and any wet areas."
Asbestos only becomes a health hazard if disturbed so it's important to take precautions to ensure asbestos fibres aren't released into the air.
"If you're working on an older house that you suspect has asbestos containing materials in it then an asbestos assessment needs to be undertaken by a professional. A visual inspection isn't enough to determine whether asbestos is present, samples of suspect materials need to be taken by a licensed assessor and tested at a National Association of Testing Authorities (NATA)-accredited testing lab," says Rod.
"Basically, the safest way to operate is if you suspect its asbestos, treat it like asbestos until proven otherwise and hire a licensed asbestos assessor and removalist to check out the area.
"People want the easy answer to this, they want to learn how to identify asbestos but realistically that just isn't possible. What you can do though, is learn asbestos awareness so you know the dangers, know where asbestos is likely to be and can take steps to manage the risk."