Spring a leak: smart water leak detection systems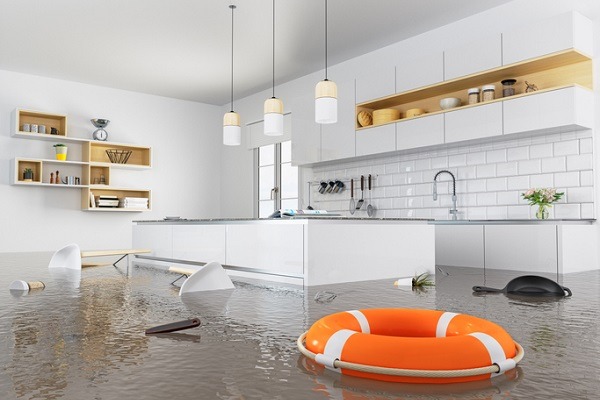 The 2019 CEDIA Expo saw a flood of water leak detection systems, each with their own benefits. Sean Carroll looks into this new market and what opportunities there are for integrators.
In Australia, the average insurance claim for water damage in the residential sector has increased by 72% in the past five years to just over $30,000 per annum, according to insurance company Chubb's Get Smart About Water Leaks report. On top of that, the report also outlines how water damage is much more prevalent when compared to other insurance claims such as fire or burglary.
It attributes the increased amount of claims to the rising number of plumbed-in appliances in Aussie homes as well as extra bathrooms on upper levels and open-plan spaces.
The four most common causes of water damage in Australian homes are burst flexi hoses, appliance damage, blocked gutters and blocked drains.
Unfortunately, water damage is greatest in the month of January, the holiday season, just when you wouldn't want it.
According a similar study that focused on US homes, Chubb's 2017 Water Risk Survey, 1,200 home owners mostly agreed that there was a strong correlation between water leaks and holiday periods; however, there weren't any preventative measures in place to counter the issue.
"We prepare for holidays by cancelling newspapers, turning lights off and setting our home alarms without giving any thought to possible water damage," Chubb underwriting manager Michelle O'Dowd says.
Chubb also reports that in the past two years, over half of home owners who experience water damage will spend more than $US5,000 ($A7,200) for repair and clean-up with 15% having to spend more than $A28,800.
Something needed to be done and the 2019 CEDIA Expo witnessed a significant growth in this new area of connected technology, water leak detection systems.
As connected devices become more prevalent, it's sometimes hard to distinguish between what's being created just to say that something is 'connected' and what can further our day-to-day lives. Water leak detection systems are serving a purpose in society and aim to greatly reduce risk of flooding and water damage and with control systems jumping on; there may be an opportunity here for integrators.
Water leak detection systems generally work in two different ways with the first being a detection device that simply alerts the owner that there is a leak. The second is more obtrusive and has the ability to remotely shut off a valve.
Most recently, UK-based Hero Labs introduced Sonic, an AI-powered pressure and temperature sensor with an automatic water shutoff valve after the smart tech business was approached by a number of insurance companies on the issue.
"Sonic is installed just after the main stopcock in the property and is fitted with a number of sensors that measure flow, pressure and both pipe and ambient temperature," Hero Labs commercial director Hamish Neale says.
"Using machine learning, we build up a picture of what is normal within the property, and if anything abnormal is detected we can, depending on user settings, either send a push notification to the mobile application or turn the water off automatically."
So impressed by the solution upon its debut at CEDIA Expo in Denver last September, judges named Sonic as the overall winner of the inaugural TechStarter program.
Similar to Hero Labs, StreamLabs has released two different products, the StreamLabs Monitor and Control.
"The Monitor is non-invasive, which means you don't have to cut the pipe to install it. It's just clamped on the main pipe coming into the home and uses ultra-sonic sound waves to measure hourly, daily, weekly, monthly and yearly water usage," StreamLabs business development manager Paul Bentivegna says.
"The Control does need to be installed inline and the pipe needs to be cut. With this device, the customer gets full control over their water and in the event of a leak, they can shut it off either at the mains or through the app.
"They will also get visibility to water pressure, temperature, room temperature and humidity."
Both StreamLabs and Hero Labs give users the ability to automatically or remotely shutoff the water supply. Other kinds of water leak detection systems are less invasive and simply send off an alert when water has been detected.
The FIBARO Floor Sensor and Aeotec Water Sensor 6, for example, provide this kind of solution. Once water has been detected, these devices will set off an alarm as well as send a notification to your phone or other device. These solutions are battery-operated and are designed to simply let the user know of an issue which is helpful but not ideal if you're unable to get to your house.
For these devices to cut the water supply, users would have to install a third party electrovalve that can be remotely activated or have a plan in place if water is detected.
"After a leak, a system equipped with an electrovalve will close off the water supply to minimise damage caused by the failure," FIBARO regional manager Rafal Sieminski says.
"If your system is not equipped with an electrovalve you will always get a notification that will call you to action, to call your relatives or somebody else to check whatever is wrong with a leak source."
On the upside, devices like the Sensor 6 and FIBARO Flood Sensor can be integrated with larger home systems to shutoff water when detected.
With the install, a plumber is required when actually cutting pipe and positioning the shutoff valve but an integrator is needed to technically install the device. This presents an opportunity to upsell home owners that are worried about the risk of flooding, especially with valuable home technologies already installed.
"Sonic requires a plumber for physical installation onto the plumbing system and can be battery operated with four AA lithium batteries or can be mains powered if 240V is locally available," Hero Labs Hamish says.
Sonic has Control4 SDDP technology embedded to make commissioning into a Control4 system as easy as possible for the integrator and end user. On top of that, "we also have an open API available which allows integration drivers to be written for other control system," Hamish explains.
For water leak detection systems that don't come with an inbuilt shutoff valve, Z-Wave Solenoids, among other products, have the ability to connect to the detection systems and give users the ability to control their water flow in and out of their home.
Another benefit of installing more intrusive detection systems is that it gives the user real-time, in-depth information on their water usage. While being able to detect leaks, the added information can never hurt as well.
Currently, Aeotec, FIBARO and StreamLabs are available in Australia with Hero Labs among others with plans to come.