Speakercraft Terrazza SC-Terr-4.1-HS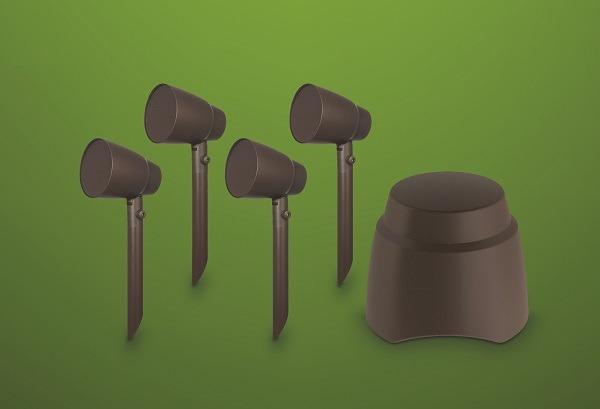 Outdoor audio is a growing trend. Simon Maisch took Speakercraft's Terrazza Series out in the wild and like what he heard.
With the Terrazza landscape loudspeaker series, SpeakerCraft is bringing with it a wealth of experience. Producing the "first in-wall loudspeakers for residential applications" in 1981; the "first pivoting tweeter for architectural loudspeakers" in 1998; and the "first Dolby Atmos enabled in-wall height speaker" in 2016, SpeakerCraft is no stranger to innovation, making it well poised to introduce affordable, great quality landscape speakers to market.
Introduction
The expandable Terrazza series is comprised of a combination of weatherproof staked satellite loudspeakers, a traditional burial subwoofer, and the recently introduced 'Hardscape' subwoofer. Designed for installation in outdoor areas, a Terrazza system can be run from an amp delivering as low as 30 watts, making it simple to run as a distributed zone system or 'B speaker' from an AV receiver.
The SpeakerCraft Terrazza 4.1 Hardscape kit consists of four satellite loudspeakers and one Hardscape subwoofer, a combination that SpeakerCraft states can impressively cover up to 139m². Installation is simple and flexible, with each satellite speaker simply mounted onto a stake, and the Hardscape sub either mounted on a flat surface, or if you are without a deck and don't have enough ground space for a burial subwoofer, it can also be mounted via tent-peg-like stakes in soft and shallow ground. 
Build & Aesthetics
Each satellite loudspeaker consist of a 4" polypropylene cone woofer and ¾" titanium dome tweeter mounted coaxially inside a fibre-glass reinforced ABS enclosure with a rust-proof grill. They come in a smooth matte dark-brown finish, and are an understated yet modern shape. I'm sure the colour is intended so the loudspeakers disappear into your environment – however you shouldn't feel you need to hide them! From the bottom of the spike, they measure around 490mm tall.
The Hardscape sub consists of a high excursion 8" DVC woofer, and presents itself in the same colour, however with a slightly textured, mottled finish. Measuring around 310mm tall and 340mm wide, you should easily be able to fit this under an outdoor bench or under the chair of what is soon to become the best seat in your outdoor area.
Installation
I installed the Terrazza loudspeakers into a decked, square courtyard of around 40m² in a quadraphonic arrangement, with a speaker in each corner. While this is much smaller than the maximum coverage quoted by SpeakerCraft, I was able to compare the system to a pair of 'typical outdoor loudspeakers' – that is, small boxes mounted on one side of the house.
Once you have decided on speaker placement, simply hammer the stakes into the soil. SpeakerCraft provides a 'hammer cap' so you don't damage the top of the stakes, also meaning you aren't putting any unnecessary weight or pressure on the loudspeaker unit itself.
There is 700mm or so of cable protruding from the bottom of each satellite speaker, intended to be fed through the back of the spike – and 650mm from the Hardscape sub.
Included in the kit are 12 IP67 single-use silicon filled wire connectors, making wiring the loudspeakers to your own speaker wire a simple and relatively tool-less exercise – although I'd recommend tinning all your cabling. I would have preferred if the loudspeakers had binding posts and IP-rated cable glands as opposed to pre-installed cables to minimise the risk of these connections becoming immersed in water.
To attach the satellite speakers to the stakes, simply unscrew the bolt on the base of each speaker to allow the bottom 'cap' to come apart, place the speaker on the spike, and screw the bolt back in.
You can also adjust the vertical angle of the speaker, from around 75° to 140°. This should well and truly cover most applications.
Inside the box, you are provided with a mounting template for the Hardscape sub, which you may use if you are mounting this on a surface such as a deck. Simply drill holes into your decking, then screw the provided screws into the deck with a few millimetres protruding from your surface. The Hardscape sub then twists and locks into these screws.
If you're mounting this on a soft, soil surface, simply flip around the 3 mounting plates on the underside of the sub, exposing three holes to hammer stakes through, which are also supplied with the kit. Although this method does allow you to install the sub on grass, I would advise against it – this risks dampening the output of the sub.
It's fantastic that all mounting hardware is included in the box, and that they are accommodating for a variety of use cases in regards to sub placement. Simply supply an amp and outdoor speaker wire, and away you go.
Each satellite speaker has an impedance of 32Ω, while the subwoofer has an impedance of 16Ω; meaning that when wired in parallel, you have a nominal impedance of 8Ω, perfectly suitable for a vast array of amplifiers. SpeakerCraft recommends an amplifier that delivers between 30 to 150 watts at 8Ω per channel, so it's very easy to run these from an additional zone on your pre-existing AV receiver, or from a low-powered amplifier. The distributor generously provided me with a Denon HEOS HS2 amplifier to pair with the system, delivering 70 watts into 8Ω per channel. This matches well, and if I had a HEOS system running through my house, this would be ideal – I could have the courtyard on a wireless zone.
Sound
To test the system, I ran through my normal checks – pink noise, frequency sweeps, and of course select music and dialogue recordings.
The manufacturer rates the dispersion angle of each satellite speaker as 110°, and as these are coaxial loudspeakers, this should be the case in all directions from the axis of the loudspeaker. With the loudspeakers angled towards the central position on the deck, the sound field remained clear, dense and detailed throughout the area, and I was not pulled towards a particular loudspeaker. With the quadraphonic setup, the stereo image maintained depth and clarity throughout most of the courtyard.
Flipping to my house-mounted loudspeakers, I immediately lost all spatial perception of the source material, especially as these are located to one side of the house. Flipping back to the Terrazza loudspeakers, you are given a much greater sense of immersion, giving the material space to breathe, spread across a much wider, deeper area.
The throw of the satellite speakers is certainly impressive, maintaining strength and detail as far as I could travel backward. I can certainly understand how SpeakerCraft can quote a coverage of 139m² with the 4.1 kit – and nearly 279m² with an 8.2 system.
Tonally, the satellite speakers are clear, direct and present. Surprisingly, for such a small driver, low end is still present in the satellite speakers, although quite a few dB down. The cutoff seems to be around 50 to 60Hz, with a gentle slope up to around 180Hz. Bass and low midrange is somewhat lacking, up until around 300Hz – however they do remain fairly neutral and flat past this point, with a slight bump in presence up around 6.5kHz. Transient detail is nicely preserved in the top end, and these extend right up to 20kHz.
The Hardscape sub starts to kick in around 40Hz, and seems to have a resonant frequency somewhere between 110 to 130Hz. It really is more of a bass speaker, doing just a little heavy lifting of the bottom end.
In parallel, the Hardscape lacks somewhat in output, perhaps due to its lower impedance when compared to the satellite speakers.
SpeakerCraft states the frequency response of the entire system as 38Hz to 20kHz – although it doesn't specify a dB roll-off, or provide a frequency graph.
The lack in sub and low midrange can be somewhat accommodated for with some EQ in whatever signal processing you have at your disposal – employing a simple bass tilt through the DSP on the Denon HEOS amp worked fairly well in my instance. However, when running the sub and satellites in parallel, I wouldn't recommend bumping up your sub frequencies too much to accommodate for its lower output, considering you are also making the satellites work harder down there.
It would be nice to run the Hardscape from a separate amplifier channel to give a bit more freedom in tuning the system, as bumping this up in overall level in comparison to the satellite speakers would work well. For argument's sake, you could run a stereo satellite feed and mono sub feed with three 16Ω channels, or with two Hardscapes, a mono satellite feed and mono sub feed, fed from a stereo amp at 8Ω.
Of course, this is all somewhat relative to your acoustic environment, and you can use this to your advantage. If you are installing the Hardscape sub coupled onto a deck, a natural resonant cavity underneath could be an advantage. Simply locating the sub close to your listening position also helps.
Conclusion
The SpeakerCraft Terrazza series is an impressive package, especially for the price, and it's an excellent solution to elevate the presentation of music outdoors. Untethering your loudspeaker locations from the built environment provides ample room for creating and optimising an immersive sound field, and SpeakerCraft makes this incredibly easy through simple construction and a variety of installation options.
With a little bit of signal processing to fill in the bass and low midrange, or perhaps a different amplifier or loudspeaker arrangement, SpeakerCraft presents a full, detailed and clear outdoor loudspeaker system that is sure to impress everyone in your outdoor area – not just the ones sitting by the house!
ADVERTISEMENT

ADVERTISEMENT
ADVERTISEMENT

ADVERTISEMENT