Bowers & Wilkins releases new Panorama 3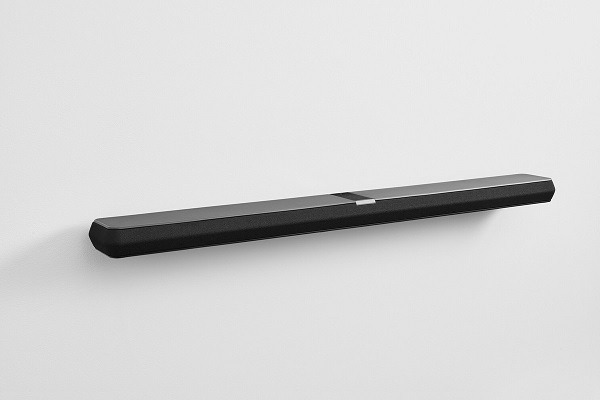 Bowers & Wilkins has unveiled its all-new state-of-the-art soundbar, the Panorama 3, an all-in-one solution offering outstanding, room-filling sound with films, TV shows, games and your favourite music.
The Panorama 3 is the brand's first Dolby Atmos soundbar.
The new Panorama 3 builds on the proven heritage of its two forebears. As with those models, it has been specifically designed to offer great sound from just one elegant component, with no need for an external subwoofer. At just 65mm high, 140mm deep and 1210mm wide, its elegant design and low profile makes it easier to install, easier to set up and easier to live with than most rivals – but despite its slim proportions, Panorama 3 still features 13 individual drive units arranged in a 3.1.2 configuration. The result is a rich and powerful sound no one-box rival can match.
The twin Atmos upwards-firing drive units complement the Panorama 3's forward-firing array of drive units, which is arranged in a classic left, centre, right (LCR) configuration, each with twin 50mm midrange drivers partnered by fully decoupled 19mm titanium-dome tweeters. Finally, there are twin 100mm subwoofers mounted in a substantial acoustic volume that forms the majority portion of the enclosure, ensuring deep, extended bass with no need for an external subwoofer.
Panorama 3 is among the most powerful soundbars in its class, with a total of 400W of output: 40W to each tweeter, 40W to each pair of midrange drive units, 40W to each subwoofer and 40W to each Dolby Atmos Elevation drive unit.
Installation and set-up is easy with Panorama 3. Its low profile makes it easy to place on a piece of furniture in front of your TV without obstructing the bottom of your screen. Alternatively, a metal wall bracket is included in the box if you prefer to mount Panorama 3 on the wall. Connection is simple: just one ARC/eARC HDMI connection is all you need to link Panorama 3 to your TV and to share the sound from any other sources you may also have, such as a set-top-box or games console. Once connected via HDMI, you can use your TV or satellite/cable box remote to control the Panorama 3's volume and power functions. An optical digital input is also provided for older TVs: if connected in this way, Panorama 3 can learn key TV remote control commands to ensure a seamless user experience.
It includes both AirPlay 2 and aptX Adaptive Bluetooth, so both iOS and Android users can easily stream their favourite music to it from their mobile devices. Spotify fans can also enjoy the convenience of Spotify Connect, ensuring both high-quality sound and convenient, easy operation. And for high-resolution listening plus the most seamless user experience, the new Panorama 3 also supports the Bowers & Wilkins Music App, giving listeners instant access to a host of streaming services.
Commenting on the launch, Stephanie Willems, brand president of Bowers & Wilkins, said, "We are thrilled to launch the new Panorama 3, our first Dolby Atmos soundbar. It combines all the performance and pedigree of a Bowers & Wilkins product with the best in elegant design and effortless usability. I'm sure our fans will love its class-leading combination of room-filling sound and comprehensive features."