SnapAV launches the Neeo Remote for Control4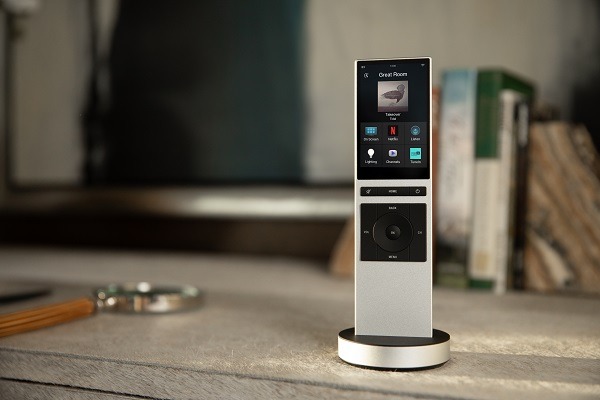 SnapAV has launched the Neeo Remote for Control4 devices.
The Neeo is a touch screen remote that lets users control their home entertainment experiences through the powerful Control4 Smart Home OS 3 platform.
With a sleek design, the Neeo gives home owners fast access to the things they need the most: their favourite streaming services, most-watched TV stations, playlists, room-level or household-level smart home scenes and more.
Neeo is built from machined aluminium designed to protect the edge-to-edge 3" LCD touch screen making the device incredibly durable. Neeo can also last up to five days on a full charge and a low-profile charging station keeps it discreet when not in use.
"The modern smart home needs simple interfaces to start a movie, select a playlist or lock a door. Neeo was expertly designed to be beautiful, and with Control4 OS 3, it's also the easiest way for a family to enjoy entertainment in their homes," SnapAV chief product and technology officer Charlie Kindel says.
"Neeo is a reflection of our obsession for creating the most elegant and simple interfaces for the refined smart home."
Family members in a Control4 OS 3-powered home have one-touch control and at-a-glance views of virtually every device through voice control with Alexa and Google Assistant, the Control4 App, a Control4 touch screen, a TV on-screen display and with the Neeo Remote.
"Neeo is as easy to use as it is beautiful. It's nice to have all our favorite stations just right there on the main screen and easily accessible. And, unlike the pile of remotes we've accumulated, it's certainly not an eyesore — it's actually a piece of technology that I don't mind lying around for guests to see. I'm sure it will even be a conversation starter for many of our friends and family when they come to visit," Control4 beta customer Jennifer Reed says.
The Neeo also brings the same amount of personalisation as the Control4 OS 3. By swiping right, users can switch between sources such as a Blu-ray player, video game system and more.