Snap One updates OvrC platform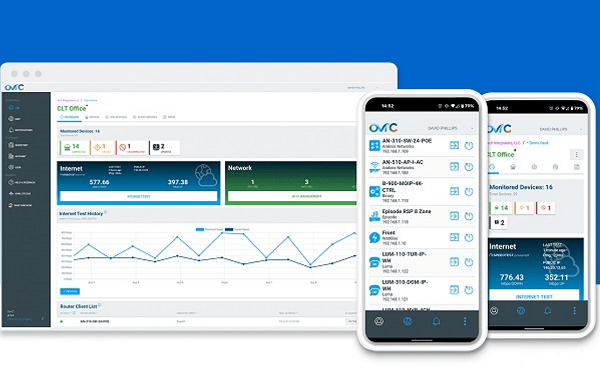 Snap One has announced several significant improvements and upgrades to its OvrC platform including improved monitoring accuracy and notifications, and Pakedge BakPak migration into OvrC, among others.
The new updates simplify installations and provide superior ongoing service capabilities.
"The latest OvrC update brings improved notification accuracy, more actionable information, and better, faster UI navigation." says Snap One product manager Evan Marty.
"Snap One Partners will find troubleshooting installations is easier than ever thanks to new capabilities and improved workflows."
Leveraging the power and intelligence of the OvrC cloud, the notification engine can better detect truly disconnected devices, resulting in an 80% reduction in email alerts to Partners. This more rigorous verification process increases the accuracy of alerts, while the event type ("connect", "disconnect", "limited") is conveniently listed at the very top of the email.
The 'limited' type is a new designation that denotes products that connect to OvrC servers that are disconnected from the OvrC cloud but still active on the local network, after which Partners can access the local UI to resolve issues. A WattBox device is also now listed as "limited" if a port is shut down due to over current events that can occur during installation.
To enhance visibility into device issues and expedite action, the OvrC UI now groups events by device, allowing users to immediately gauge customer impact and issue duration. The UI also features a new 'reference ID' listing for each service interruption that can be marked 'seen' to differentiate new notifications from older events.
"We are always listening to our Partners' needs and suggestions, and they help inform the next generation of OvrC capabilities. By simplifying Wi-Fi network setup, ensuring notifications are only triggered for critical issues, and improving workflow and user outreach within the OvrC interface, we've made remote management and monitoring more powerful and easier than ever before," Marty adds.
Snap One has recently introduced OvrC Pro capabilities to Control4 EA and CA controllers with the release of OS 3.2.2, enabling any Control4 system to be fully monitored and managed through OvrC.
Another recent introduction to OvrC is Wi-Fi Management—a fast network setup tool that enables installers to update settings on multiple access points with a single click. Offering a consolidated interface view that displays commonly used settings such as channel, power levels and roaming status, system configuration and troubleshooting can now be managed in a matter of minutes.