SI launches new Zero-G projector screen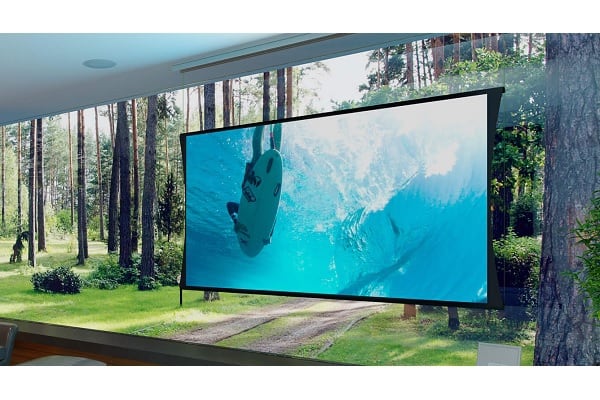 Screen Innovation's (SI) new motorised screen, the Zero-G, with a newly extended maximum drop, aims to solve the problem that integrators often have when specifying a motorised screen where extremely tall ceilings make it all but impossible.
Zero-G has no black mask above the viewing surface. Instead, the Zero-G screen is housed in a two-piece tube that is suspended from Ultra-High Molecular Weight Polyethylene (UHMwPE) cables, where it deploys at a pre-set location and unrolls itself, displaying the viewing surface with up to 15.8ft (4.8m) of drop.
The area above the Zero-G viewing surface is acoustically transparent and does not negatively impact the viewing experience like a standard motorised screen with black masking material would.
In addition to the newly added long drop option, SI has also re-engineered the internals of the Zero-G chassis including mechanics such as a new end-cap design that is milled entirely from one block of aluminum, and improved consistencies for internal mounting points by using barrel mounts instead of a pulley system. Zero-G is custom built by hand just like the rest of SI's screens in their Austin, TX facilities.
This aims to provide complete control over the development, engineering, and production processes.
"Zero-G has always been an incredibly impressive screen, but the long drop option takes it to a whole new level," SI director of marketing Skyler Meek says.
"Sure, the awesome ALR capabilities of our screen materials solve a huge problem, but the most jaw-dropping part of the whole thing, for me at least, is just watching the thing roll up and down.
"No other screen on the planet offers this kind of experience."
SI is distributed in Australia by Screen Technics and Network AV.