SANUS mounts the competition with new Advanced Full-Motion Premium Series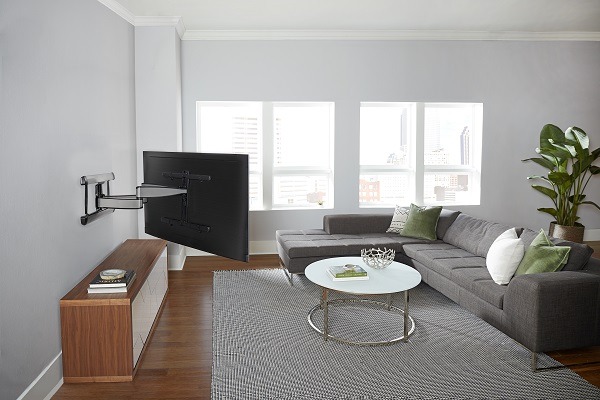 SANUS has developed a range of new TV mounts that are designed to blend in seamlessly with the surrounding environment and enhance the aesthetics of any room. The SANUS FluidMotion and Steady Set functionality help deliver an optimal viewing experience to the customer.
"While flat-panel TVs have continued to dazzle with ever-slimmer, more streamlined designs, mounts have retained their status as infrastructure equipment to be hidden out of sight," Legrand senior product manager Jim Mugge says.
"With the introduction of the SANUS Advanced Full-Motion Premium TV Mounts, our aim is to change that. These mounts are the first of their kind, with a sophisticated design that complements any room, while offering the advanced functionality that defines SANUS."
It can be purchased in one of two distinct finishes: brushed stainless black with charcoal grey trim and brushed stainless silver with black trim.
The Advanced Full-Motion Premium Series offer a lower depth profile than traditional mounts, display closer to the wall and its ultra-strong, solid-steel frame provides maximum support.
Users can effortlessly extend, tilt and swivel their displays regardless of weight or thickness and the Steady Set functionality ensures that TVs stay where users want them, with no drifting or shifting.
The SANUS Advanced Full-Motion Mounts are available now as well as being on display at the CEDIA Expo 2019.