Samsung's virtual showcase presents new technologies and products for residential and commercial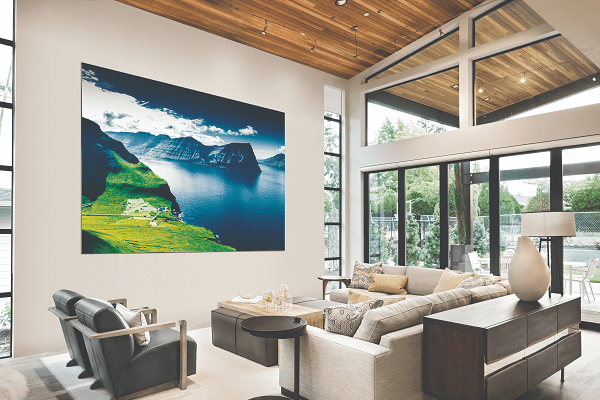 Samsung Electronics has showcased a range of new products for residential and commercial markets, addressing the needs of consumers and giving the channel more programs, tools and resources than ever before.
The range includes the outdoor TV, The Terrace, Samsung's first UST projector, The Premiere and The Wall. It joins the company's range of 8K, 4K QLED TVs lifestyle TVs.
"2020 has been quite the year. People are spending more time in their homes and in front of screens than ever before," Samsung Electronics American senior director of custom install channel/strategy Jim Mayo says.
"Our 2020 line of Lifestyle and QLED 8K and 4K TVs are designed to enhance the home no matter where they are placed – inside and out – ensuring designers and custom installers have all the product options, and tools to offer unique packages for their clients. Not only that, but our 5-Star Solutions platform and CI Platinum program are tailored specifically for CI and dealer success."
Samsung signals its commitment to custom installers with the 5-Star Solutions program and the new CI Platinum Program that launched earlier this year.
For small-to-medium-sized businesses, the Pro TV and the outdoor Pro TV Terrace Edition are equipped with the Samsung Business TV app, letting owners create dynamic, customisable content right from their phone or tablet. With screen sizes spanning 43" to 75" and the Samsung Business TV app's versatility, these new commercial solutions give integrators valuable tools to address their customers' business needs in 2020, whether indoors or outdoors.
"This year has seen unprecedented changes in the way we relax at home. It's also changed how we've been able to dine out. That's why the displays showcased at CEDIA deliver outstanding picture quality, brightness and more options for custom installs in commercial and high-end residential projects," Samsung Electronics America vice president of marketing, display division Mark Quiroz says.
"Our portfolio's flexibility is designed around the needs of the channel. Between The Wall 1.2/1.6, and the Pro TV and its Terrace Edition for outdoor applications, we have models and sizes that address virtually every application."