Samsung's 2021 The Wall launches in Australia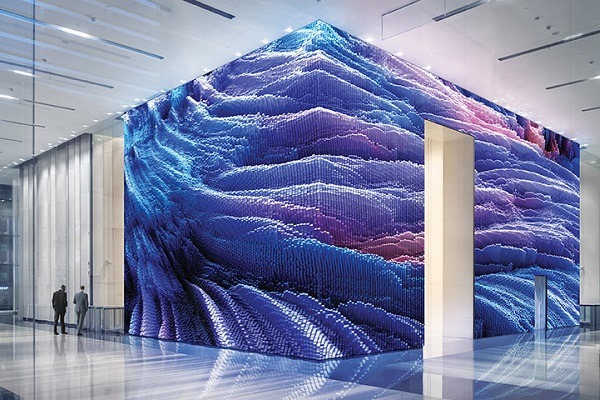 Samsung Electronics has announced the availability of the 2021 model of its LED display, The Wall.
The Wall is a statement LED solution that can provide businesses with the opportunity to captivate audiences with stunning lifelike displays. With the new AI processing technology, upgraded 120Hz frame rates and versatile installation options, this year's The Wall once again reimagines display technology to give businesses boundless flexibility to showcase content.
The Wall's Black Seal Technology blankets the screen with incredible uniformity, creating a seamless canvas for purer black levels with enhanced depth, delivering amazing contrast and immaculate detail.
With 1,600 nits peak brightness, The Wall provides clear images that stand out even in bright room environments. Colours leap to life with Ultra Chroma technology that is designed to produce narrower wavelengths to create RGB colours.
The 2021 model offers The Wall's most detailed picture quality featuring 8K resolution, with a 120Hz refresh rate and Simple 8K playback with just one Snowbox. The Wall can be configured horizontally for up to 16K resolution with a 15,360 x 2,160-pixel arrangement. Its massive screen measures over 1,000", creates a completely expansive canvas for showcasing content.
It comes with built-in Micro HDR and Micro Motion advanced picture refinement, featuring 20-bit processing that presents a smooth viewing experience and colour mapping with stunning accuracy – suitable across different commercial environments. The Wall also includes four picture-by-picture screens (PBP), allowing for four different content sources, all of which can be displayed simultaneously in 4K resolution. The 4-PBP function can be used for business purposes where multi-screens are needed.
"The Wall continues to drive innovation across the LED category. It's the latest in big-screen technology and the future of display. Samsung continues to leverage its expertise in the professional display industry to remain at the forefront of innovation. The enhancements to The Wall are a stunning example of our commitment to the future of the industry," Samsung Australia senior director of display Philip Gaut says.
"The Wall is a unique technology that delivers a stunning picture, and will be offered in customisable formats. The Wall propels LED display technology into new realms of possibility by providing businesses with the opportunity to visually enhance, and completely transform spaces, such as lobbies, boardrooms, and showrooms."