RTI elevates the audio streaming experience with RTI Music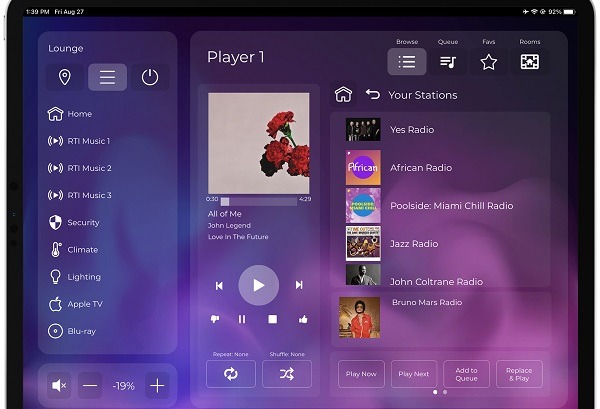 RTI has announced its new venture, RTI Music and the MS-3 Music Streamer.
RTI Music is designed so that technology integrators can deliver an exceptional streaming experience to their clients with native control through any RTI control system. For home or business owners, RTI Music is an entirely seamless control experience, eliminating the need — for example — to exit the control app to search for music and access a playlist.
With RTI Music, users can stream high-res audio into any room from their favourite platform or from their local NAS with a simple tap on a touch panel, remote, or their favourite mobile device.
RTI Music supports three concurrent streams from sources including Pandora, Spotify, iHeart Radio, SiriusXM, SiriusXM for Business, SoundMachine, and TuneIn. The AirPlay interface enables streaming from Apple Music and Amazon Music. The Music Queue features play now, play later, and play soon options to build an on-the-fly song queue, while the Favourites playlists integrate songs from multiple services and local devices.
RTI Music operates natively within the RTI control system, making it easy to access playlists and search favourite songs, artists, and albums on favorite services and then direct the music to the room(s) of choice. A music collection on a local NAS drive or computer can be accessed and fully integrated with support for lossless audio (FLAC and ALAC) formats. The three streams in the MS-3 can keep the whole family engaged, while the lossless audio capability and local drive access can satisfy the audiophile.
RTI director of product management Neal Ellsworth says that where RTI Music really shines is in user experience, which is fully integrated into the control system.
"Sources, zones, favourites, and playlists are all managed from a single interface, even when creating on-the-fly music queues from multiple services or local devices."
ADVERTISEMENT

ADVERTISEMENT
ADVERTISEMENT

ADVERTISEMENT