Review: VDV II Pro voice, data and video cable verifier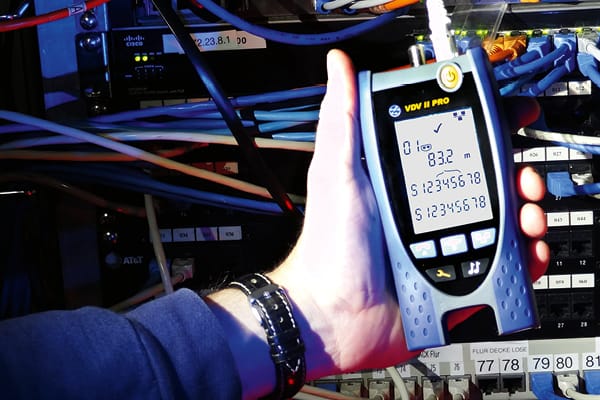 The VDV II Pro may be just a cable verifier, but it certainly pushes the category to its limit. Stuart Robertson looks at this new offering from Ideal Networks.
The VDV II Pro from Ideal Networks is a series of cable testers that check the integrity of copper cables commonly found in domestic, commercial or industrial voice, data or video installations, including telephone wiring, data network and video/security cabling.
Ideal Networks says this device is far more than a wiremapper: "The advanced wiremap engine displays complex wiring faults instantly while time domain reflectometry (TDR) aids troubleshooting and improves on-site productivity".
It's important to remember that connection issues are not always associated with cable faults, so the VDV II Pro has the capability to help identify service-related issues too. By detecting the presence of voltage and checking polarity, the VDV II Pro can determine which media service is running over the cable, such as ISDN, PBX and Power over Ethernet (PoE) resulting in faster fault diagnosis.
Troubleshooting active Ethernet networks is also made easier with in-built network detection that displays network rate and duplex information. Further, to prevent potentially costly damage to the tester, all VDV II Pros are designed to know when they have been plugged into an outlet where voltage is present.
I put the VDV II through its paces out in the field, to see how it held up in a real world environment.
How did it go?
Overall, the VDV II Pro is a well-presented wire mapping tester.
The instruction booklet was very easy to understand and a quick internet search found a comprehensive 40 minute video that discussed all of the features and functions of the tester.
It didn't miss a beat.
Given the tester's capability to diagnose telephone, coax and data cabling, it also has an in-built tone generation, which is a handy inclusion.
Now, I was only able to test the unit's data cabling functionality as well as limited wiremapping. This was because I did not have access to the optional extras of a tone-generating probe, 12 remote testing units, 24 RJ-45 identifiers and 12 coax remote units.
(The VDV II Pro is available as part of a kit that, in addition to the tester, includes one dual port remote unit, one coax remote unit, an alkaline battery, two RJ45 to alligator clip cables (390mm), two screened RJ45 to RJ45 cables (150mm), two RJ12 to RJ12 cables (100mm), one F-type plug to F-type plug cable (230mm), an F-81 barrel splice, a BNC female to F-type male adaptor, a BNC female to F-type female adaptor, one RCA female to F-type male adaptor, one RCA female to F-type female adaptor and one wallet wiring card.)
It would be great if Ideal were to offer a complete kit that included the VDV11 Pro Plus along with all of the optional extras… after all, the tester already comes with a great carry case with lots of room for the adaptors.
That aside, the testing I could do offered good and beneficial results.
By plugging a cable into the tester with no adaptor, you will see the length of the cable. And by plugging the remote adaptor into the other end of the cable for continuity and polarity checks, the wire numbers were easy to see and a tick on the screen showed cable was ok.
I then plugged in a cable with a known fault. The crossed pairs were easily identifiable by matching two rows of numbers. Open pairs are shown with a zero on the bottom row while a short circuit was identifiable by a link line between the shorted numbers. With the press of a button you can toggle between pairs and see the distance to either the open or short circuit from the tester.
Compared to other basic wiremap testers, the VDV II offers a great feature in testing network switches.
Users have the ability to plug into a network switch, either locally or in a remote location, and see on the display if the switch offers half or full duplex; 10Mbps, 100Mbps or Gigabit connection speeds; as well as if you are connected to a PoE port, display PoE voltage and polarity and the cables used.
My favourite feature, though, was the port blinking option. This feature lets you plug the tester into an outlet or port in an installation and it will blink the port light on the switch it is plugged into. I used this feature a lot in a poorly labelled (read: non-existent) installation that I had to repair and it dramatically cut down the time spent looking for cables.
In conclusion, using this tester onsite it made both testing and wiremapping very easy and has certainly saved time on fault finding.
I strongly suggest watching the online videos for more detail on all the functions and features, especially the ones I couldn't test.
Would I buy it again? Yes.